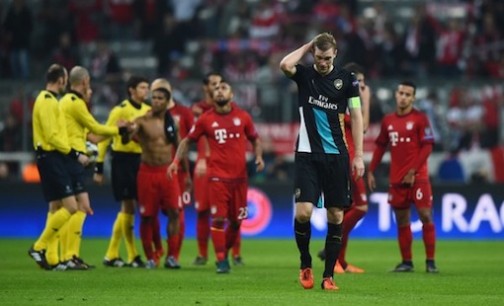 Arsenal captain and defender Per Mertesacker has said it is not over for the London club despite losing 5-1 to Bayern Munich at the Allinaz Arena.
"They scored too early for us and got into their rhythm – that was too difficult for us to go again," he said.
"It was disappointing from our point of view but because they scored early, they got into their rhythm."
"We have to win both games and get two goals on Olympiakos, but it's not over and that's how we have to approach it. We need to bounce back and put away negative energy."
Bayern lost the reverse fixture 2-0 at the Emirates Stadium but the return of Dutch winger to the Bundesliga side sparked some sort of revival.
The home side made their intentions known by showing early signs of a revenge and in the 12th minute the thrashing of Arsenal who have been impressive in the last three weeks began.
Robert Lewandowski put his side ahead before Thomas Muller doubled their advantage but it was not only about the goals but how they dominated their opponents.
David Alaba added another before flying Dutchman Arjen Robben marked his return to the big stage with a goal. Arsenal fought back but was a little too late.
Olivier Giroud pulled one back for the Gunners but Bayern Munich were not done as Mueller second his second of the night to give the German side a resounding 5-1 win.
"Arsenal's full-backs had little or no protection, that is where all the chances came from. That is where Bayern Munich got in. You cannot give a team so much width and not expect them to create so many chances. Against the top teams, you cannot have one weakness, they will keep exposing it," said Mark Lawrenson of the BBC.