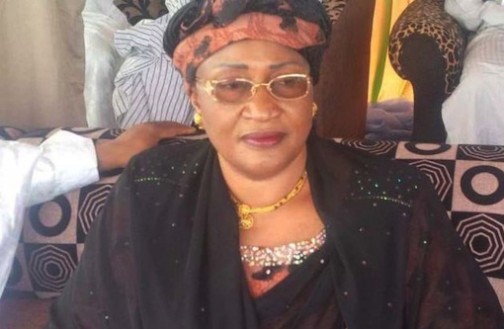 The swearing-in of 36 ministers by President Muhammadu Buhari has taken place, with the ceremony regaled with the nicknames of some of the appointees.
Jummai Aisha Alhassan, governor-designate of Taraba state was called with her fond name, Mama Taraba by the MC, Garba Shehu, to the applause of the audience.
But she insisted, by shaking her head in objection, that Garba call her full name while reading her short citation.
Former Governor of Rivers State, Rotimi Amaechi was daubed with appellation as General Officer Commanding, for his role as the Director-general of the Buhari-Osinbajo campaign organisation.
Alhaji Lai Mohammed, who has been the spokesman of the All Progressives Congress since its formation in 2013, was called 'master of the Game', a tribute to his yeoman's job of tackling the then ruling government, led by the PDP.
Comrade Solomon 'Sankara' Dalong from Plateau State, turned the heads when he appeared in green Khaki, with a red beret to boot, looking like the popular and late Thomas Sankara of Burkina Faso.
Other ministers sworn in today were Alhaji Adebayo Shitu, Professor Folorunso Adewole.
The swearing The ministers are being sworn in batches of four each, according to the alphabetic order of Nigerian states.
In the first batch were Okechukwu Enelamah, Muhammad Bello, Senator Udo Udoma and Senator Chris Ngige.
Audu Ogbeh, Adamu Adamu, Shehuri have also been sworn in.
Ibe Kachikwu, Christopher Ogbonnaya Onu, Dr Osagie, Pastor Usani Uguru have taken their oaths of office. So have Dr Kayode Fayemi, Dr. Onyemah Godfrey, Mrs Amina Mohammed, Prof. Anthony Onwuka.
Suleiman Adamu, Mrs Zainab Ahmed, Lt. Gen Dambazzau, Senator Hadi Sirika now sworn in as ministers.
Abubakar Malami, Barrister James Ocholi, Lai Mohammed who Shehu Garba, the MC described as "master of our game" and Babatunde Fashola, former governor of Lagos State sworn in. Incidentally, both Lai Mohammed and Babatunde Fashola served as chief of staff in Lagos, under Asiwaju Bola Ahmed Tinubu.
Ibrahim Usman Jibrin, Abubakar Bawa Bwari, Kemi Adeosun, Prof Claudius Daramola sworn in as well.