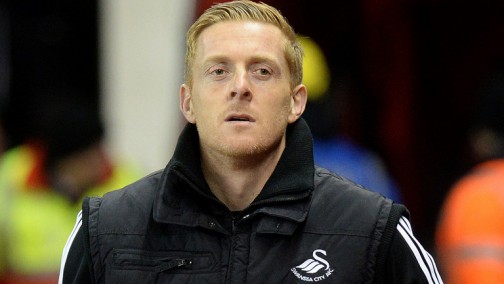 Manager Garry Monk says he takes "full responsibility" for Swansea City's poor run of results in the Premier League.
The Swans have won only once in 10 league matches and dropped to 15th in the table after Sunday's 1-0 defeat by Liverpool at Anfield.
Monk was unhappy with the decision to award Liverpool a crucial penalty for handball, and also denied his team are in a relegation battle.
"It's my responsibility to get results, it's as simple as that," he said.
"I take full responsibility for this period. You can see players are working hard to put it right.
"I understand that and you can't continue to not get points.
"But it's only a matter of time before it starts to turn for us, we'll get that one result and you'll see us fly again so there's never any danger of that team being in a relegation fight.
"But of course we need to get points and we need to get points as quickly as possible."
Not deliberate handball
Monk felt his team deserved much more against Liverpool.
Midfielder James Milner scored from the penalty spot after full-back Neil Taylor was adjudged to have handled Jordan Ibe's cross in the 52nd minute.
The Wales international had his back to the ball which struck him on the elbow, with referee's assistant Simon Beck awarding the penalty.
"I am gutted for my players as they were excellent," said Monk.
"It was a very soft penalty and it is a shame for the the players as they were excellent today. I have no complaints over the performance.
"I did think penalties had to be deliberate. Neil's back is turned. It was very soft.
"We didn't look like a team in trouble. We are not going to make excuses, I know we need results but if we play like that it is a given.
"It was an excellent performance which deserved much more than it got."
Klopp lends his support
Swansea's board were reported to be considering Monk's position following the 2-2 draw with Bournemouth on 21 November.
And his task in getting Swansea out of their current rut does not get any easier with second-placed Leicester visiting the Liberty Stadium next Saturday followed by an away trip to leaders Manchester City on 12 December.
Liverpool boss Jurgen Klopp does not believe Monk should be under pressure.
"I would be surprised if it was the right decision to criticise him because this team plays really well," he said.
"I don't know what place Swansea want to reach when the league begins, but for this team there is no problem. In the league they will play a good role in the rest of the season."

Load more