Eromosele Ebhomele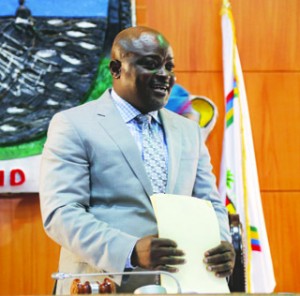 Speaker Mudashiru Obasa of the Lagos State House of Assembly, on Wednesday appealed for religious tolerance in the country, especially at this period when the country is passing through psychological challenges.
Obasa, who spoke at the ninth Annual Hijrah Lecture organised by the Lagos State House of Assembly Muslim Community at the Assembly Complex, Alausa, Ikeja, said the challenges had reached a point where political office holders are in need of a direction to get the country going.
"The theme for this year's programme is apt as the world, Nigeria in particular, is going through emotional experience that words cannot describe.
"Taking a critical look at unfolding events across the Nigerian nation in the last decade, it has been a marriage of chaos and instability.
"Without a doubt, we are witnessing a turbulent period as some individuals or groups living under the jurisdiction of any other authority resort to deviant violence.
"As a result, innocent people, particularly children, elderly and women lose their lives on daily basis while their properties are destroyed in the north eastern part of our dear country.
"As these skirmishes rage on, it then dawns on us as representatives of the people who believe in the Nigerian Project to fashion out modalities towards reviving every stratum of the nation and this led to the decision of this year's lecture titled: 'The Universality of the Message of Muhammad', hinged on this.
"Our goal is to bring all and sundry together because we felt if there is change within the soul and mind-set through attitudes, beliefs, creed, symbolic interaction, motivation, commitment, the desire to bring forth compatriots towards achieving the vision and mission of maintaining a balanced society will be fruitful.
"We in government are desirous of new transformation in its ability to create a new framework of policies that will tackle complex issues, stamp out corruption and make life abundant for our people in accordance with divine laws of Allah," the speaker told guests at the event.
While delivering his lecture, Director of Development Initiative of West Africa (DIWA), Sheikh Muhammad Nurudden Lemu, harped on the need for Muslims to be compassionate.
He also urged Nigerians to be serious with their various professions as long as it is to serve people.
According to him, engaging in professions to serve other people has its own blessings because such professions are done out of compassion to humanity.
Warning against hate preaching, the cleric said: "we should be ready to forgive, show love and mercy to the creatures of God. We stand for justice.
"Islam will never tolerate injustice, it tolerates justice and if someone stands for justice Allah will support and protect him. If you care for the truth Allah will care for you.
"If you don't stand for truth, Allah will not protect you. Let's try and support our leaders whenever they stand for justice.
"If a community, society or nation supports justice and truth, Allah will support them even if the community or state is not an Islamic state.
"If we have muslims in our community, we should feel safe, even the animals should feel safe."
He warned that Islam forbids killings and even prescribes that animals should be respected. Thus, anyone who takes another person's life, is not expected to enter heaven, he said, while urging religious leaders to preach peace, love and unity at all times.
"Allah bless you with reward for any good you do. The preservation and promotion of religious and human life.
"If social obligations are not fulfilled the community will suffer.
"We are all inter-dependent, evreybody has a role to play in the society. Every member of the society to take whatever work he is doing to be beneficial to society," the cleric said.
In his teaching also, the National Missionary, Al-Fatihu Quareeb Islamic Society of Nigeria, Shaykh Abdurrahman Adangba, said the religion teaches love and that where there is love, crisis like insurgency would not come up.
He also appealed to political leaders to have the fear of God.

Load more