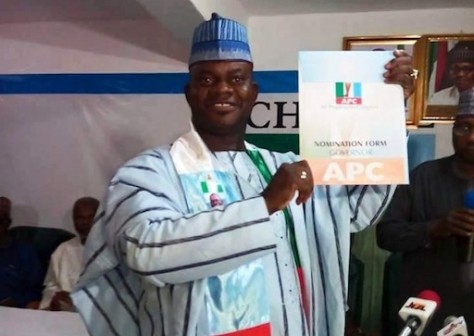 From the collated results for the Kogi state governorship supplementary election, it looks certain that Alhaji Yahaya Bello of the All Progressives Congress (APC) will be declared the governor elect of the central Nigerian state by the Independent National Electoral Commission.
The PDP opponent, incumbent Governor Idris Wada failed to cover grounds as the APC extended the 41,353 vote lead recorded two weeks ago.
The 40-year old Bello replaced Prince Abubakar Audu, the original candidate of the APC, who died, same day, the 21 November election was declared inconclusive by INEC. The umpire ordered fresh election in 91 polling units spread across 19 local governments.
The councils are Adavi, Ajaokuta, Ankpa, Bassa, Dekina, Ibaji, Ida, Igala-Mela, Okehi, Odohun, Ijimu, Kabba/Bunu, Lokoja, Ofu, Olamaboro, Okene, Omala and Yagba West and Kogi Kodokafi.
Here are the collated results:
Okene Local Government:
Registered voters – 676
Accredited voters – 217
APC – 208
PDP – 02
Valid votes – 210;
Rejected votes- 03;
Total number of votes – 213
Okehi Local Government:
Registered voters – 403
Accredited voters – 110
APC – 108
PDP – 0
Total votes cast – 108
Kogi Kodokafi Local Government
Registered voters – 1,689
Accredited voters – 738
PDP – 281
APC – 406
Valid votes – 695
Rejected votes – 03
Total votes – 698
Ida Local Government:
Registered voters – 310
Accredited votes – 141
PDP – 70
APC – 62
Valid votes – 136
Rejected votes – 01
Total votes cast – 137
Yagba West Local Government:
Registered voters – 371
Accredited voters – 165
PDP – 73
APC – 86
Valid votes – 162
Rejected votes – 0
Total votes cast – 162
Adavi Local Government:
Registered votes – 2,166
Accredited voters – 931
PDP – 12; APC 878
Valid votes 896
Rejected votes – 10
Total votes cast – 906
Igala Mela Local Government:
Registered voters – 1,501
Accredited voters- 558
APC -92
PDP- 434
Valid votes – 533
Rejected votes – 06
Total votes cast – 539
Kabba Bunu Local Government:
Registered voters – 1,767
Accredited voters – 375
APC – 375
PDP – 131
Valid votes – 340
Rejected votes – 10
Total votes cast – 350
Ajaokuta Local Government:
Registered voters – 1,411
Accredited voters – 567
APC – 538
PDP – 12
Valid votes – 554
Rejected votes – 04
Total votes cast – 558
Olamaboro Local Government:
Registered voters – 2,047
Accredited voters – 555
APC – 167
PDP – 332
Valid votes -522
Rejected votes – 22
Total votes cast – 544
Omala Local Government:
Registered voters – 2,526
Accredited voters – 799
APC – 317
PDP – 323
Valid votes – 650
Rejected votes – 024
Total votes cast – 674
Ijimu Local Government:
Registered voters – 705
Accredited voters – 205
APC – 86
PDP -102
Valid votes – 197
Rejected votes -01
Total votes cast – 198
Ankpa Local Government:
Registered voters – 6,622
Accredited voters – 1,339
APC – 562
PDP – 629
Valid votes – 1,232
Rejected votes – 63
Total votes cast – 1,295
Bassa Local Government:
Registered voters – 742
Accredited voters – 340
APC – 221
PDP – 114
Valid votes – 340
Rejected votes – 0
Total votes cast – 340
Ofu Local Government:
Registered voters – 4,677
Accredited voters – 1,132
APC – 105
PDP – 484
Valid votes – 1,043
Rejected votes – 31
Total votes cast – 1,074
Lokoja Local Government:
Registered voters – 2,854
Accredited voters – 833
APC – 301
PDP – 484
Valid votes – 1,043
Rejected votes – 31
Total votes cast – 1,074
Dekina Local Government:
Registered voters – 17,558
Accredited voters – 4,991
APC – 2,178
PDP – 1,999
Valid votes – 4,339
Rejected votes -190
Total votes cast – 4,529
Ibaji Local Government:
Registered voters – 2,678
Accredited voters – 745
APC – 369
PDP – 220
Valid votes – 595
Rejected votes – 12
Total votes cast – 607
Ida Local Government:
Registered votes – 310
Accredited – 141
PDP – 70
APC – 62
Valid votes- 136
Rejected votes- 01
Total votes cast – 137

Load more