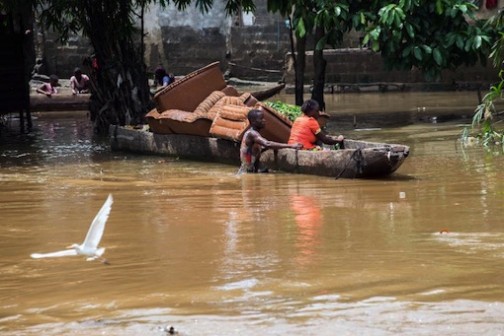 Anger peaked in Kinshasa's slums Wednesday as DR Congo's poor grappled with little more than bare hands against torrential rains and flooding that have left 31 people dead and 20,000 families homeless in less than three weeks.
"They kill us from hunger, now they're exterminating us with water," said Jocelyne Kapinga, wading through mud, slime and fecal matter swirling inches above the heels of her rubber boots.
Since November 19, "we have recorded 31 deaths due to the collapse of homes" in repeated downpours, Kinshasa's Interior Minister Emmanuel Akweti told AFP.
The city's wet season normally runs from October to May, but this year the rains began only in mid-November, with a third of the average annual rainfall — or 450 mm (17.72 inches) of water — falling in less than three weeks, Akweti said.
In Ndanu, an impoverished southeastern district of the Democratic Republic of Congo's capital, people have been hit especially badly by this year's unusually heavy rains.
The area sits near the Ndjili and Matete tributaries of the giant Congo river and in the 1970s served as a water reserve to irrigate vast rice-fields run by Chinese aid organisations.
But as the city's population expanded relentlessly to hit 10 million, flimsy shacks and huts sprouted across the area to house some 50,000 people, but without sewerage or any kind of urban planning.
Most of the deaths from the recent floods occurred in the city's particularly impoverished southern and eastern districts, notably along the banks of the giant Congo river.
Saying more heavy rain is forecast from now until the end of December, Akweti urged people in flooded areas "to leave their homes without delay."
– City blames climate change –
"We are convinced the unusual rainfall is connected to climate change," Akweti said.
But one Ndanu resident brushed off the claim, saying "Every year there's flooding, the authorities don't do anything about it, they don't care."
Women and children there were busy scooping smelly yellowed water into old saucepans with their bare hands on Wednesday, the children in water to their waists.
Schools were empty, furniture and the odd electrical appliance piled high to keep dry, and in places fecal matter floated in stagnant water as makeshift sewage pits overflowed.
At the Saint-Bernard school, some 30 classrooms have been totally submerged by the rains, with only the desk-tops visible.
"What're the authorities waiting for to build concrete dams," said Mangala Nsenge, a 70-year-old speaking out on behalf of others.
"Elections are coming up but whoever comes here will be in for trouble," he said, angrily adding: "Where are they? They've abandoned us."
In hopes of keeping back the water, Ndanu residents have built a thin bamboo fence reinforced by bags of sand.
"We built this ourselves, without any help from the government or the town hall," said Raph Kayembe, an unemployed man in his 50s. "Every year we're under water."
The city's main pumping facility has been seriously damaged by the flooding, with water supplies cut to half of the city's people.
But city authorities hope the taps will be running again by day's end.

Load more