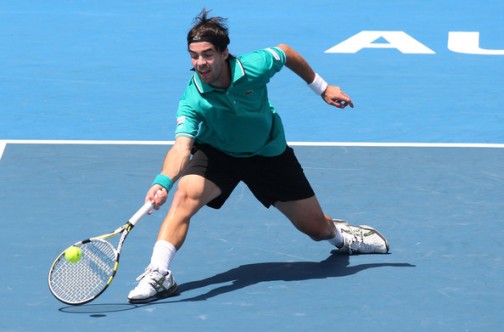 The only Nigeria's hopeful in the first leg (Futures 3) of 2015 edition of the Governor's Cup Lagos Tennis Championship, Christian Paul, has crashed out of the tournament in the quarter final on Thursday as he was defeated by number 4 seed South African Lloyd Harris in straight set of 6-1,6-0 at the Lagos Lawn Tennis Club, Onikan.
Paul was the only surviving local player in the International Tennis Federation, ITF, approved tournament, who from the qualifying round scaled the hurdles to the main draws, defeating higher ranked player from Uganda in the second round, Duncan Mugabe before being sent packing in the quarter final by a more experienced South African player.
Paul said after the match that Harris indeed deserved the victory because he showed the stuff he was made of against him.
"This was a good match and a good exposure for me. I'm happy for reaching this stage. The experience I gained in the first leg will definitely help in the second leg next week," Paul said.
Meanwhile, Thursday's quarter final stage seems to be a day of upsets as many of the seeded players were disappointed as they could not make it past this stage.
Number 2 seed in the men' singles Spain's Pere Riba could not finish his match against number 5 seed, Sadio Doumbia as he retired in the second set of their game which ended 6-2,2-0. Zimbabwe's Takanyi Garanganga, who is number 5 seed stopped Antal Van Der Duim of The Netherlands in straight set of 6-4,6-0.
In the women's singles, tournament number 1 seed, Sherazad Reix of France could not complete the first set of her game against Norwegian Ulrikke Eikeri. The match was called off when it reached 4-0. Number 8 seed, Tessah Andrianjafitrimo of France upset Bulgarian Julia Terziyska, number 3 seed, in straight set of 6-1,4-1 retired. Conny Perrin of Switzerland beat Prarthana Thombare 7-5, 6-2.
Number 1 seed in the men's singles, Bosnia's Aldin Setkic won his game against Benin Republic's Alexis Klegou in straight set of 6-0,6-3.
The semi-final of the first leg holds Friday with Setkic meeting Harris, while Garangaga will face Doumbia in the men's singles.
In the women's singles, Eikeri will play against Andrianjafitrimo, while Perrin will battle Majeric.
The finals of Futures 3 will hold on Saturday with prize money and trophies presented to the winners in the singles and doubles events,
while the second leg (Futures 4) starts immediately with the qualifying matches.

Load more