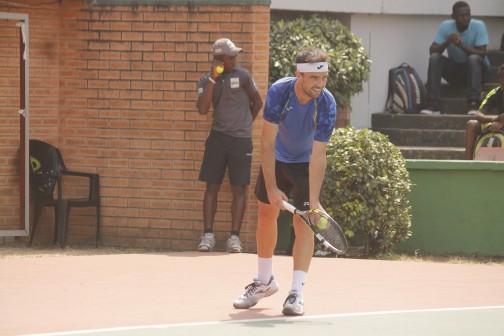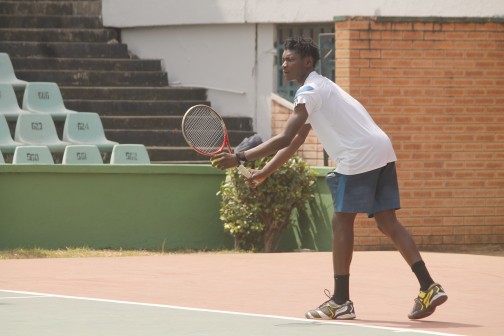 Christian Paul of Nigeria battled his way to the quarter final of the 15tth Governor's Cup Lagos Tennis Championship on Wednesday as he upset an Ugandan player, Duncan Mugabe in the second round match at the Lagos Lawn Tennis Club, Onikan.
Paul, who is ranked number 2130 in the world shocked Mugabe, who is on number 1186 in straight set of 6-4,6-4.
The Nigerian player told journalists at the sidelines of the Lagos Lawn Tennis Club that the victory over the Ugandan star, who was runner-up in the men's singles of the Governor's Cup last year has indeed boosted his confidence and morale going into the quarter final match against Llyod Harris of South Africa on Thursday. Harris, number 3 seed, defeated David Pel of The Netherlands 6-4, 3-6, 6-3 in the second round match.
"I'm very happy to have played and defeated Mugabe, who is of higher rank. This has boosted my confidence that if I put in more effort I can make it in the competition this year," said Paul, who played qualifying matches before making it to the Main Draws of the first leg (Futures 3) of the ongoing International Tennis Federation (ITF) approved tournament.
"I have come to realise that Nigerian players have the potentials to make it big at the Governor's Cup but we are faced with the problem of not playing circuits around the world to gain exposure and experience. I want to beg Nigerians to come to our aid by sponsoring some of us to play tournaments around the world," he said.
Other Nigerians who played their second round matches Wednesday were no so lucky like Paul. Sylvester Emmanuel failed to make it past number 2 seed from Spain, Pere Riba as he was sent packing in straight set of 6-2,6-2. Thomas Otu bowed to number 4 seed from The Netherlands, Antal Van Der Duim in another straight set of 6-1,6-2. Number 1 seed from Bosnia, Aidin Stkic defeated Albert Bisong Bikom in a 6-1,6-0 game in the men's singles.
The Nigerian ladies were worse off as both Ronke Akingbade and Osariemen Airhunmwunde failed to shine. Akingbade was beaten by number 6 seed, Ulrikke Eikeri from Norway in straight set of 6-0,6-0, while Airhunmwude lost 1-6, 0-6 to French Tessah Andrianjaftrimo.
The 15th Governor's Cup is however getting to its toughest stage with the quarter final matches holding on Thursday. Number one male player, Setkic will slug it out against Alexis Klegou of Benin Republic, while Pere Riba will play against Cortes Alcaraz Aaron.
In the women's games, number 1 seed, France's Sherazad Reix will battle Ulrikke Eikeri of Norway, Terziyska Julia will play against Andrianjaftrimo of France, Prarthana Thombare of India will slug it out with Conny Perrin of Switzerland, while Tadeja Majeric of Slovakia will tango with Valeriya Strakhova of Ukraine.

Load more