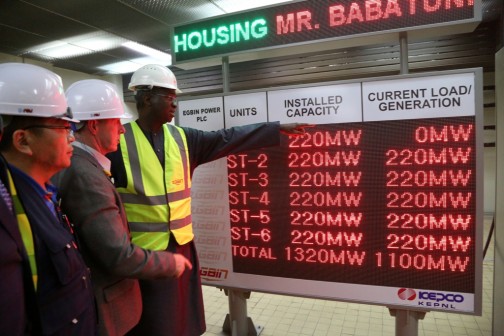 Minister of power, works and housing, Mr Babatunde Fashola Friday promised to settle the N47 billion debt it owed to Egbin Powerfor energy supplied to the national grid.
Fashola gave the assurance in Lagos during the inauguration of facilities of Ikeja and Eko Electricity Distribution companies.
Fashola said that government would pay debts owed legally and verifiable, adding that government was making efforts to see that all government's debts were sorted out.
''I realised that the power sector needs to be sufficiently funded. When I assumed duty, I first checked what the power ministry was owing, but I am happy we did not owe anything.
"We are working with other ministries to settle their outstanding too. I want to assure you that we will pay debts that are legally incurred and are verifiable.
"As government, we have to demonstrate clear commitment to encourage other power consumers to pay," he said
The minister, however, appealed to Nigerians to ensure prompt payment for electricity they consumed so as to develop the sector.
''Everyone must pay what he or she is owing.
"We will ensure that the debts are liquidated without distorting the system,'' he said.
Fashola called on the regulators to brace up to promote efficiency in the sector.
"If Eko and Ikeja Discos are ready to take power and dedicate it to special buyers ready to pay slightly higher tariffs, the regulators must begin to work on this to accommodate willing buyers and sellers.
"The public should know this and must be ready for the change," he said.
The Chairman of Egbin Power, Mr Kola Adesina, said that the new investors invested 500 million dollars at the point of takeover two years ago.
He said that the company also spent additional N45 billion to overhaul the plants which were never overhauled 30 years after they were built.
"As at today, the Federal Government owes us N47 billion.
"If you can support us and ensure the payment of the debt, we will appreciate it and be able to do more.
"We are highly constrained by the lack of payment for services rendered.
"No matter how much broad-minded you are and no matter the desire to serve your nation, if services are not paid for the momentum to continue to serve will not be sustained," he said.
Adeshina said that industry operators were in dire need of funds since most of the funds they used to acquire power assets and other post-privatisation investments came from the banks.
"But banks don't want to hear about any delays or the reasons for such delays.
"When the amount of the debt payment is due, they simply call for their money.
Mr Benjamin Dikki, the Director-General, Bureau of Public Enterprise (BPE), implored Nigerians to be patient, stressing that privatisation of the power sector would work if privatisation of telecoms sector worked.
"Telecoms worked because the regulators nurtured the market and investors came in.
"If regulators can nurture the power sector too, investors will bring in more money and invest," he said.
NAN recalls that Adesina, had in October, blamed the huge government's debts for its inability to pay for gas supply.

Load more