Taiwo Adelu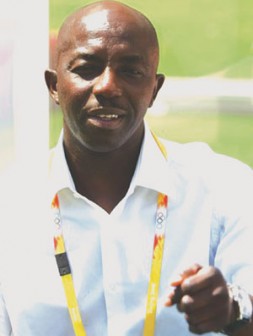 As Coach Samson Siasia and his U-23 Dream Team VI returned to the country from the U-23 Africa Cup of Nations Senegal 2015 on Monday, he is expressing bitterness in his heart.
The former Nigerian international, who was one time coach of the Super Eagles, dropped a bombshell that the country did not deserve to be crowned the champions of Africa at the just concluded qualifying tournament for the Rio 2016 Olympics in Senegal.
Siasia noted that if not for the patriotic zeal of his players, Nigeria would not have qualified for the knockout stage of the competition, let alone winning the trophy and securing the Olympic ticket.
"We did not have good preparation for the tournament as did other teams that came to Senegal. We trained with only one set of jerseys, not even training kits were provided for us. No allowance for the players and coaches. We were made to toil for what we achieved at the U-23 championship.
"I only had a couple of days to prepare the team for the championship and the one we had in Gambia. We were in Senegal to face the best of Africa in the U-23 category. These teams had good preparation before they faced us.
"I was just happy that the team tried all we could not to bring embarrassment to the nation. To me we did not deserve what we won in Senegal. It's just miracle of God.
"I believe we cannot continue like this if we really want to make it as a country. We don't have any other country. I'm happy the boys were determined to play for Nigeria," said Siasia.
Meanwhile, the Nigeria Football Federation, NFF, has said that the coaches and the players of the U-23 Dream Team VI will be given sometime to rest before they return for the preparation ahead of the Summer Olympics.
According to the Secretary General of the federation, Dr. Mohammed Sanusi, the players will go back to their various locations as soon as they arrive from Senegal on Monday, while "the coach, Samson Siasia after taking time to rest will give us his training programme for the Olympics."

Load more