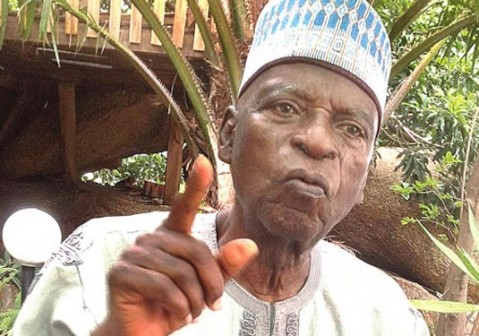 Ambassador Yahaya Kwande, an elder statesman, on Tuesday commended the success so far recorded in the fight against corruption and challenged the judiciary and the police to "play their roles effectively".
Kwande noted that President Muhammadu Buhari was voted into office because he hinged his campaign on fighting corruption in the most populous black nation.
"The Federal Government's fight against corruption is gaining the right momentum and is in line with the cardinal goal for which President Muhammadu Buhari was voted into office.
"What remains is for the judges and police to play their own roles so that the suspects would be convicted if culpable, to serve as a deterrent and also rid the nation of this canker-worm," Kwande told NAN in Jos on Tuesday.
According to him, the constitution is clear on how to tackle the menace. "It is the duty of the executive to point out the suspects and that is being done by the presidency.
"It is also the duty of the police to investigate the allegations so that the judge will weigh the evidence and mete out the right penalty.
"The judges and the police should see the fight as a challenge and play their roles to ensure justice for all," he said.
Noting that the Chief Judge of the Federation only recently expressed reservation on the integrity of the judges and their judgements, Kwande said that the anti-graft fight could not succeed if judges were not sincere in handling the matters.
"The police, on their part, must ensure that investigations are thorough.
"There should be no loopholes that could lead to judges throwing out serious cases `for want of prosecution".
"Clearly, members of the public will not accept that," he said.
He also cautioned against the use of technicalities, "especially interlocutory injunctions", to let suspects off the hook, pointing out that the change mantra had ensured that such untidy attitudes were buried with the past.
Kwande said that Buhari could not handle the ills of the nation alone and, therefore, challenged everyone in the line of national duty to "handle it with uttermost patriotism".
"If we all performed our roles credibly, Nigeria will be the country we all seek to belong to and be proud of," he said.
The elder statesman also commented on allegations that the anti-graft war was a witch-hunt of political opponents.
"People, who are caught in the net of the war would usually have all manner of reasons to justify any claim but the recent arrest of retired Brig.-Gen Lawal Ja'afaru Isa, a close associate of the President, confirms that no one will be spared once he or is involved in any shoddy deal.
"The President has consistently said that he would jail even his closest relations, if they are found to be guilty of corrupt tendencies; no one should use any flimsy excuse to seek to escape justice," he said.