GBENRO ADESINA/IBADAN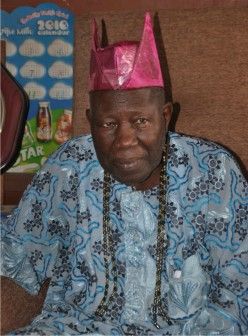 The incoming Olubadan of Ibadan, Balogun Saliu Adetunji, disclosed to our correspondent that he wept bitterly when he heard that his predecessor, the late Oba Odulana Odugade 1 had joined his ancestors.
According to him, "this is the last thing I expect at this moment. I had never thought that Oba Odugade will leave us now that we have started preparing for his 102 birthday anniversary.
"Can we question God? No, we can't and so we have to accept whatever God brings our way."
As regards the relationship that existed between the duo, the incoming monarch said, "We had very good relationship. He was a good father. He was a good man. He was a good king. He was too good. He guided us well when he was on earth. We will surely miss him. I pray that God will console us in Ibadan and we will continue from where he stopped. We will continue with the agitation for the creation of Ibadan State."
He said he was grateful to God to see today saying, "If anybody says that I will become Olubadan, I will not believe the person but now I know God is great and will serve him for the rest of my life."
He called on trouble makers in Ibadan to desist from acts of thuggery, saying, "rather than involving in thuggery, people should face their job. They should not fight one another. They should be friends with one another for the progress of the state. Let us join hands together to make Ibadan great."
Though much is not known about the new monarch yet, he lives in his compound known as Alusekere compound in Popoyemoja.
He is 88 years of age.
He is in entertainment industry and owns a recording studio initially known as Amo Aje but now known as Baba Aje Recording studio.
Among the prominent musicians he has promoted are: Wasiu Ayinde, Dauda Epo Akara, Tatalo Alamu and Sule Alao Malaika.
Adetunji, who will be the 41st Olubadan will be the 4th Olubadan that Ibadan South West has produced. His predecessors are Fijabi, Akere, Oyewole Foko.