Eromosele Ebhomele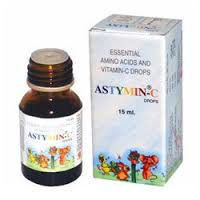 Beginning from Monday, a total of 10 people would win N10,000 each on a daily basis while one person would win N100,000 monthly throughout 2016 from using Astymin, a multivitamin produced by Fidson Pharamceutical company.
This is part of a promotion to mark the 15th anniversary of the drug, the company said on Monday, adding that this would be done through the Get Alert Promo.
According to Femi Ajala, the Product Manager, Astymin had often rewarded its wholesalers and is now looking at rewarding consumers for their support and patronage.
"Ten winners will win N10,000 every day and there would be a monthly star prize of N100,000 to be won by a winner," he said.
He said to win, a user should buy the product, scratch a surface in the pack for a code which the user should text to 1393. He said this is to confirm the genuineness of the product as well as qualify him for a daily draw.
"The draws would be done daily and winners would get text alert. Cash reward would be sent either through transfers or by hand at the headquarters," he added.
Ajala also noted that the promotion was not one-off, because through it, there had been various other assistance to the education sector.
"We have been doing promotions for the wholesalers and retailers, but we are starting a promotion for the consumers. It will start today and run through the year," he said.
He said Astymin had sponsored educational activities in over 60 primary schools including competitions and building of talents. The winners are rewarded in various forms.
He also said through Astymin, brilliant students have been rewarded while the Astymin PANS NITE, is an avenue through which the product sponsors a beauty pageant.
In the area of sports, the Astymin EPL/UCL Predict and Win is an opportunity for sports lovers to predict outcomes of league matches to win prizes.
In his contribution, Ola Ijimakin, General Manager, Marketing of Fidson, said the 1393 code which consumers should send scratched numbers to is generally approved by government agencies for drug manufacturers to confirm the authenticity of the product.
He, however, said evidence had shown that very few people would scratch the surface of a pack to confirm the authenticity of the product.
Thus, he said the promotion was meant to educate Nigerians about the authentication code.