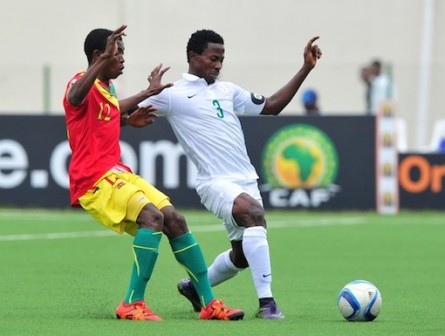 Taiwo Adelu
As Nigerians are angry over the early ouster of home-based Super Eagles in the first round of Rwanda 2016 African Nations Championship (CHAN), Chief Coach Sunday Oliseh has come out to apologise for the crash.
It was condemnation galore on the social media immediately Syli Nationale defeated the Eagles through Ibrahim Sankhon's 44th minute goal in the third group C match at the Rubavu Stadium Tuesday evening.
The Nigerian team failed to consolidate on the four points they took to the match. They allowed Guinea upstage them with five points to finish second behind Tunisia who beat Niger 5-0.
Coach Oliseh remorsefully apologised to Nigerians on the tweeter handle of the Super Eagles after the disgraceful crash, saying "we apologize to Nigerians for this loss, we never planned to exit the tournament this early. The boys gave their best."
Soccer loving Nigerians who reacted to the loss on tweeter blamed the misfortune of the Eagles on Oliseh.
To Iwelunmo Isioma, "Oliseh is a confirmed mediocre coach. He never deserved the Super Eagles job."
Peter Ugwu said that the woe at CHAN will affect the the main Eagles team very soon.
"I said it before Oliseh will kill our national team. The same thing'll still happen to the main Eagles when they play Egypt."
Echezonachukwu believes "@SundayOOliseh turned up a big flop in his first major tournament wit #SuperEagles, #KeshiMustBeHavingAGoodLaff #TalkIsCheap."
Mr Mowiz taunted the team, saying "Nigeria were unlucky against Guinea, shoro niyen? Abeg pass me more wine, I no come Super Eagles world."
To Oma Akatugba, Nigerian coaches cannot add value to the Eagles. He tweeted: "I like the Super Eagles and can categorically say local coaches will only destroy our national team."
Kanny said: "I told you guys Super Eagles will not survive in this CHAN Waka… Their failure is proudly sponsored by Sunday Oliseh."
Shina Oludare tweeted: "When you heard the Super Eagles crashed out of the African Nations Championship with 'African Guardiola' in charge."