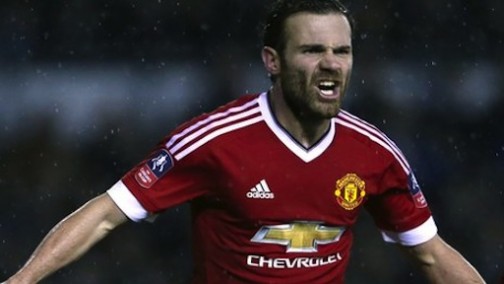 Juan Mata and Daley Blind have recounted how their exploits earned Manchester United victory over Derby County in Friday's Emirates FA Cup fourth-round cracker.
Mata said he was happy to contribute to a job well done, while Blind admitted to "thinking like a striker" when scoring his influential goal during the match.
Mata says he was pleased to contribute to the Manchester United cause after his goal capped off a 3-1 win over Derby County in the Emirates FA Cup iPro Stadium.
The Spanish international swept home the crucial third goal late on to kill off the hosts and book the Reds' place in the fifth round of the competition, and Mata later expressed his joy at playing his part in an improved performance and victory.
"I'm happy with the goal, because it was the one that in a way, finished the game," he told MUTV. "I think we did what we have to do every game – we were quicker, we created chances and tried to play in a positive way.
"It's not easy to come here and play football, especially in the first half because they pressed a lot but I think in the first 30 to 35 minutes we were very good," Mata continued. "In the second half, we controlled the game, they didn't create almost any chances and we scored two more goals."
A frenetic first half saw the game level at 1-1 heading into the interval, but the Spaniard said he was pleased with how he and his team-mates responded: "In one corner, in one free-kick, they can score, and they did it in a good play but I think we kept calm in the second half.
"We kept doing what we had to do: quick passing, trying to get forward, playing in the holes, and trying to turn and play forward, and I think we did quite well and that's why we won.
"When you play for Manchester United there's pressure on every game, you have to win every game and I think we managed the pressure, we played good football, and now we're looking forward to the next game on Tuesday in the Premier League."
Meanwhile, Blind said he was like a striker scoring a vital goal for United during Emirates FA Cup fourth-round victory over Derby County on Friday.
Wayne Rooney broke the deadlock at the iPro Stadium but the hosts managed to level through midfielder George Thorne against the run of play. The onus was then on Louis van Gaal's men to react and Blind was an unlikely hero when he surged forward from his defensive position in the 65th minute to latch onto Jesse Lingard's cross and finish into the bottom corner past goalkeeper Scott Carson.
Blind told MUTV he was delighted by the result and happily recounted his impressive goal against the Championship side.
"I passed the ball to Juan and then it opened up," Daley said. "I saw nobody there and I started thinking like a striker, so I thought maybe I should go to the first post. I made a choice and then the ball was there. It was a perfect ball from Jesse, I didn't need to take a touch and then it was a goal!"
Asked how it felt to celebrate his finish in front of the 5,472 United fans in the away end, Blind continued: "It was a great feeling and you could see how many fans there were again, they are everywhere and always are. I compliment them and this victory is also for them of course."
On the match itself, Blind was pleased by United's performance and felt his team-mates deserved the win. "They are a physical team and I think we played very well. We played quicker than the games before, we created a lot of chances and we scored two goals. We could have finished more but I think, in the end, it was a good performance.
"We were in control and then in one moment it slipped away [when Derby equalised]. It was just one chance and they had some shots from outside of the box. But in these kinds of games, a cup game, anything can happen and of course you are not happy when you go into the dressing room at 1-1. But we came out very strongly and showed that we wanted it more."