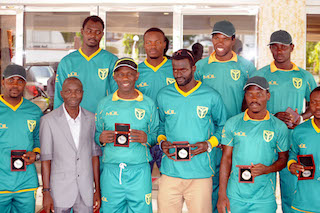 Foundation Cricket Club, (FCC), one of the foremost cricket clubs in Nigeria, is set to mark its 30th year anniversary on Saturday, 9 April. The club, which was founded in 1985, clocked 30 years at the end of 2015.
The club's Coordinator, Mr. Akin Denton, said that "to commemorate this landmark achievement in the history of the club, two T20 friendly cricket matches will be played against a visiting Greater Accra Team from Ghana on Saturday, 9 April at the home of cricket in Nigeria, Tafawa Balewa Cricket Oval, Race Course, Lagos."
Other activities planned to mark the club's 30th anniversary celebration will include presentation of cricket kitbag to Atlantic Hall School, Epe, presentation of souvenirs to some distinguished friends of the club for the unalloyed support over the years, launching of a commemorative anniversary photo book, a unique compilation of the club's activities over the years and social events to be attended by stakeholders of cricket in Nigeria.
Denton disclosed that those to be honoured with the club's souvenirs, plaques as friends of the club are Governor of Lagos State, Akinwunmi Ambode, Deji Tinubu, Chairman of Lagos State Sports Commission, Ade Abisogun, Chief Demola Edu, Basil Eteri, Farouk Musa, Dr. Egbe and Andrew Jedras.
Others are Group Captain (Rtd.) Gabriel Esho, late Sam Ahuchogu ( posthumous), late Vanderpuye Orgle (posthumous) and Engr. Gbolahan Yishawu.
He also disclosed that another category of those to be honoured is some identified cricket clubs and institutions that have contributed to the development and sustenance of cricket in Nigeria.
These include Nigeria Cricket Federation, Lagos State Cricket Association, Club Cricket Committee (CCC), Cricket Club of Abuja, Crocodiles Cricket Club of Kaduna, London Nigerians Cricket Club, Rocks Cricket Club, Government College Ibadan Old Boys Cricket Club, Ibeju Lekki Cricket Club, Lagos Asians Cricket Club and Federal Government College Warri Old Boys Cricket Club.