Kazeem Ugbodaga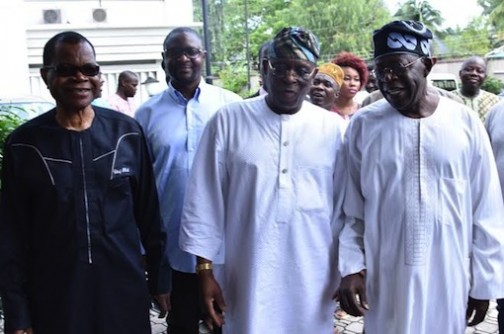 After over three hours of meeting with the leadership of the All Progressives Congress, APC, former governor of Ogun state and leader, Social Democratic Party, SDP, Chief Olusegun Osoba finally returned to APC.
Osoba, a founding member of the APC dumped the party after a feud with the incumbent governor of Ogun state, Ibikunle Amosun and founded the SDP where he tried to wrestle power from Amosun but the SDP was soundly defeated at the general polls in 2015.
On Sunday, the APC national leader, Asiwaju Bola Tinubu led party delegates to Osoba's house in Bourdillon, Lagos, Southwest Nigeria to resolve the lingering crisis.
At the meeting Osun state governor, Rauf Aregbesola and Oyo state governor, Abiola Ajimobi were present while Governor Akinwunmi Ambode of Lagos State was represented by his deputy, Dr. Oluranti Adebule.
Also present were ex-national chairman of the Action Congress of Nigeria, Chief Bisi Akande; former governor of Ekiti, Niyi Adebayo while Governor Ibikunle Amosun was absent from the meeting.
After about three hours of meeting, Aregbesola came out with some leaders of the party to address journalists and announced that the feud was over and that Osoba was now back to the fold as a progressive.
"The leadership of the progressive politics in the Western part of Nigeria met today at the residence of Chief Olusegun Osoba. We have resolved all the differences within the leadership and as such, we are happy to tell the world that the leadership of progressive politics in Western part of Nigeria is united and ready to jointly prosecute the agenda for growth, purposeful leadership, development and good governance in the Western part of Nigeria," he said.
Aregbesola added that: "There was a time when Osoba switched to another party but he is a foundation member of the APC and he was in the APC throughout my election. Yes, he was for a time with the SDP, but with what we have just done today, Akinrogun Osoba, the Aremo himself is back with the progressive leadership of the Yoruba race."
The governor stated that with Osoba's return to the party, the progressive leadership of the Yoruba race is now fully united and "are ready and charged to lead our efforts to reposition our land and integrate with others nationwide to put Nigeria in its proper footing.
Speaking with newsmen, Osoba, who was elated, sang a Yoruba song which he called a Awolowo's song and simply said "the war is over".
Also speaking, Tinubu said he was filled with joy that the progressives had reunited once again to make the party stronger in all front.
"What is very crucial is for us to strengthen our front and remain in the progressives. I am an unapologetic progressives and I will remain one. And that is the only principle I abide. Wherever the progressives are, they must be united with their vision," he said.
On why Amosun was not present, Tinubu said "nobody is left out, it is all progressive and no one is left out, no matter your insinuation. Amosun is with us, we can excuse people. The Governor of Ogun state is elected on the platform of APC and we can vouch for him. This is not a medialess revolution. Leaders of the party identified with us and it is clear we are all one, including Amosun. Who told you we are fighting?"