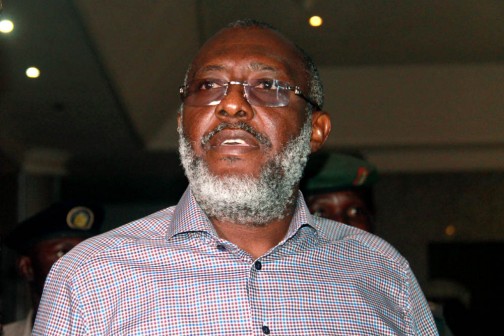 Chief Olisa Metuh, National Publicity Secretary of Peoples Democratic Party, PDP again held up his trial for corruption, money laundering and criminal breach of trust on Monday with a fresh request for adjournment.
Justice Okon Abang of Federal High Court, Abuja had on Friday dismissed Olisa Metuh's bid to stall trial, ordering him, to open his defence after a dramatic seven hours argument during three applications and several attempts to stop the trial.
Metuh is being tried on a seven count charge of criminal breach of trust, corruption, money laundering involving $2m cash transaction and for allegedly receiving N400 million from the Office of the National Security Adviser on Friday.
Rather than open his defence, Chief Tochukwu Onwugbufor, who announced himself as the new counsel to Destra Investment, a company solely owned by Metuh which is also the second defendant in the case had on Monday morning asked the court to adjourn to enable him familarise himself with the matter.
In the oral application Onwugbufor whose similar applications were repeatedly rejected last Friday argued that he was appointed as counsel to the second defendant on Friday and as such, is incapacitated to participate in any proceeding connected to this charge today.
He added that he will not participate in the proceedings henceforth unless he is given time and facilities to prepare the case of the second defendant in line with section 36 (b and c) of the Constitution of Federal Republic of Nigeria: "The second defendant has now briefed us in accordance to this provision of this provision and we are asking the court to give us adequate time and facilities to come up with the defence."
He added that he needs to apply for all processes, applications and rulings delivered on them by the court.
But he was opposed by Sylvester Tahir, the defence counsel who asked the court not to grant the application.
The defence counsel said the application is not different from the one made last Friday by the defence counsel.
Justice Abang will rule on the fresh application after a short adjournment the the court which is on now.