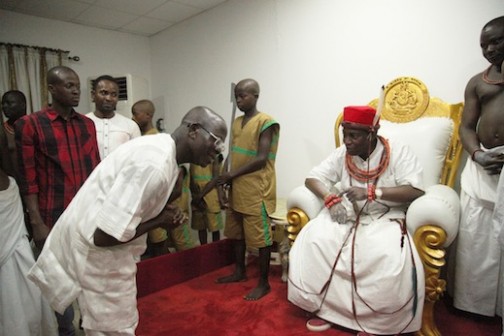 Crown Prince/Edaiken of Uselu, Eheneden Erediauwa of Benin, Edo, on Tuesday said the Binis will continue to be good hosts to non-indigenes in the kingdom.
Eheneden gave the assurance when members of Igbo community in Edo paid him a courtesy visit in his palace in Uselu.
The crown prince, who thanked members of the union for identifying with the palace, commended them for their deep understanding and recognition of the culture and values of the Binis.
"I am deeply impressed with your words and recognition of our culture, values and heritage which we are proud of as Binis.
"I am also happy about your kind words about my father and royal family and your words have re-assured the palace and the people of the kingdom of your loyalty to the throne.
"We will continue to accommodate members of the Igbo community and other peace-loving non indigenes.
"My father and I have had cordial relationship with the Igbos. I finished my secondary education in the East before joining my father in Lagos during his days as a civil servant," he said.
Earlier, President of the Igbo union, Prof. Nath Aniekwe, said they were in the palace to congratulate the crown prince on his successful installation as the Edaiken of Uselu.
He said members of the union, comprising all Igbo speaking people resident in the state were lovers of culture and tradition.
"Our visit is to pledge our support and loyalty to the crown prince Eheneden, knowing the enormous task ahead.
"Our prayer is that your achievements will surpass those of your forebears."
Aniekwe urged the crown prince to accept the position of grand patron of the union. "We have resolved as a people living in your kingdom to be involved in the scheme of things in accordance with dictates of the land.
"We want to also use the medium to announce openly that there is no such title as Eze Igbo among the people of the union resident within your kingdom.
"The Oba of Benin remains our king and most of us have lived almost all our lives here in Benin.
"We will therefore continue to pray for the progress of the kingdom and her people and wish your royal highness a peaceful reign as the heir apparent to the throne," he said.