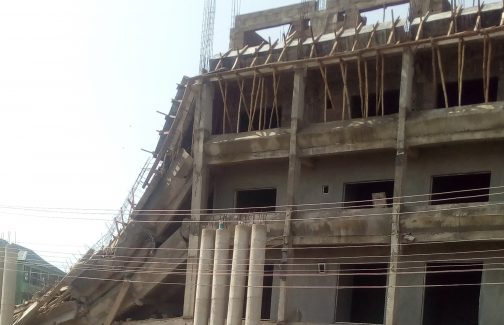 Abiodun Onafuye, Abeokuta: Mr Fatai Adisa, husband of one of the victims of the collapsed shopping mall at Itoku, Abeokuta, Ogun State, southwest Nigeria last Friday has cried out over the worrisome condition of his wife, Afusat, at the state hospital, Ijaiye.
Afusat, 26 who resides with her husband at 13, Odo Oyo Way, Abeokuta, was one of those injured and taken to the hospital. She suffered fractures in both hands and legs.
The injured mother-of-four is the only victim still at the female ward of the hospital and was operated upon to stop her internal bleeding. Other victims are still at the Emergency section of the hospital, it was gathered.
Adisa, a generator technician said he had not been himself since the incident occurred.
He thanked the state governor, Ibikunle Amosun, for his prompt action in rescuing the victims and his decision to foot their medical bills.
"I thank God for everything. I thank God that my wife is still alive.
"When I received the call that she was among the victims, I was shaken. She has been working with them since the beginning of the project.
"I can confirm to you that my wife's condition is worrisome. She had fractures in both hands and legs. Also, she has been having internal bleeding but an operation was carried out on her a few days ago.
"When I got here this morning (Monday), I noticed some changes in her. Yesterday, she couldn't sit down, but this morning, her bed has been raised. I have hope that she will survive it.
"I want to thank the governor and the nurses for their support. Though she can't eat anything now, I know she will start eating soon. She has been placed under medical observations," Adisa said.
Efforts to speak with the Chief Medical Director of the hospital on the development proved abortive as he was sighted going to the State Secretariat, Oke Mosan, Abeokuta to meet with the Permanent Secretary, Health Management Board, HMB.