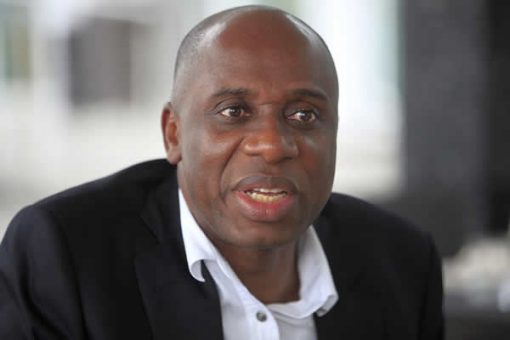 The Minister of Transportation, Mr. Rotimi Amaechi, has described the late former Minister of transport, Mr. Ojo Maduekwe, as a polished man and an embodiment of humility.
Amaechi said this at the night of tributes organised by the ministry of transportation and the family of the late former minister in Abuja.
He stressed that Maduekwe when he served as the minister of transport, brought his intellect to bear on solving pressing problems of national development.
According to him, Maduekwe has transited from our mortal environment and his soul has returned to his maker.
"To sum up what the late hero meant to me in a few words is really difficult. The thought that a polished, disciplined human being and an embodiment of humility like Ojo Maduekwe has joined the saints above, brought to my heart a combination of grief and gratitude, I said grief because we have lost a colossus, a patriot and a compassionate leader.
"We are also grateful to God because he has lived a good life and left an enduring legacy because good men must die, but death cannot kill their names," he said.
He, however, said that Maduekwe was also a great administrator, statesman, public intellectual, Pan-Africanist and a shining star in the political firmament.
Also paying his tribute, Lai Mohammed, the Minister of Information and Culture said that Maduekwe was a committed politician that was passionate about the country.
He said that he was a detribalized Nigerian adding that his deep commitment was beyond political power and gains
Sen. Walid Jubrin, the Chairman PDP Board of Trustees described Maduekwe as a true democrat that was worthy of emulation.
He said the departed politician believed in politics of issues and not politics of tribalism noting that Nigeria has lost a great personality.
News Agency of Nigeria (NAN) reports that the night of tribute was attended by PDP officials, dignitaries, ministers of Solid Minerals, Dr. Kayode Fayemi Minister of Science and Technology, Dr. Ogbonnaya Onu and other well-wishers.
The burial is fixed for Aug 20, 2016, in his hometown, Asaga, Ohafia in Abia State