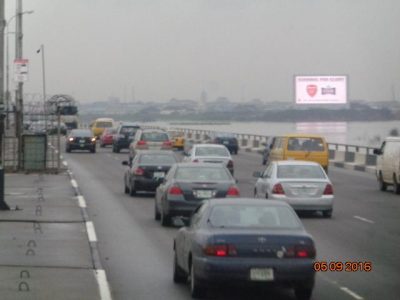 Mediaviews/LASACO multi Million digital Billboard along 3rd mainland bridge at Oworonsoki has commenced full operation.
One of the highest advertising spender is currently running one of their campaigns on the site.
The billboard has a peculiarity in terms of size and location. It is a 20m x 37m, making 740 square meters. It is about the largest in Lagos, if not in Nigeria. The location is on a vintage and vantage position. It is one of the premium and most visible sites in the state couple with the busiest nature of the route. Therefore, it is only the big spender that can afford to be on it.
It was learnt that most of the high profile advertisers have indicated interest in the site.
Historically, the site was acquired in 2002 and a double-sided 12m x 30m (360sqm) conventional static structure was erected on it for Coca-Cola. It was the first of its kind and the only larger-than-life structure in the state as at then. Coca-Cola Nigeria won an award for it.
It was acquired in 2007 by ECONET now AIRTEL and they remained on it until it was pulled down for the mega digital structure.
It was learnt that the regulatory authority in the state informed the site owner of the need to redevelop the site to compliment the mega status of the state.
Thereafter, Mediaviews approached financial institutions in which some of them signified their intention to partner with the company. Eventually, they settled for LASACO PROPERTIES LIMITED which has been very cooperative with the site owner. There is high level of understanding and harmony between them.