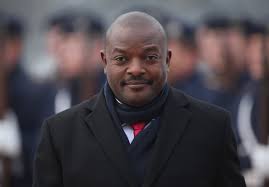 The Presidency on Tuesday said unknown gunmen tried to assassinate a key advisor of Burundian President Pierre Nkurunziza, wounding him and killing his bodyguard, sources of the ruling party.
The sources, who asked not to be named, said Willy Nyamitwe was attacked on Monday as he was driving home in the capital, Bujumbura. Local residents said they heard shots and grenade explosions.
Nyamitwe was taken to hospital, with a wounded in the arm, while one of his bodyguards was killed and the other one wounded. Police confirmed the incident.
Killings of political personalities or party supporters are not rare in Burundi, which was plunged into turmoil when Nkurunziza sought a third term in office in spite of the constitutional two-term limit. He won an election in July 2015.
High-profile victims of political killings have included former information minister Hafsa Mossi, was shot dead in July.
Also, prominent ruling party member Phocas Bakaza, was killed in April and opposition party leader Zedi Feruzi, was also shot dead in May 2015.

Load more