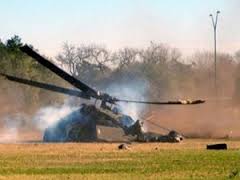 The head of Rescue Organisation of Iran's Red Crescent Society on Tuesday said two people on board a rescue helicopter are missing as it crashed in a lake near capital Tehran.
The Head of the rescue organisation, Morteza Salimi, said six others who were also on board the helicopter were rescued and dispatched to hospital.
He, however, said that report on the crash did not specify the number of people on board the aircraft.
The report said that the helicopter crashed in the Shohadai-e-Khalij Fars Lake in Chittoor district of Tehran at 11.40 a.m. local time (0810 GMT) on Tuesday.

Load more