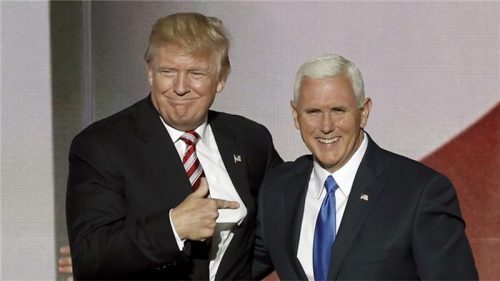 U.S. President-elect Donald Trump and Vice President-Elect Mike Pence have received more congratulatory wishes from world leaders, Trump's Transition Team has said.
The Transition Team, in a statement issued on Monday in New York, said no fewer than 12 additional world leaders spoke with the president-elect to offer their congratulatory wishes.
The list included President of Chile, Michelle Jeria, that of Costa Rica, Luis Rivera, and the President of the Czech Republic, Miloš Zeman.
The others were President of Finland, Sauli Niinistö, President Juan Alvarado of Honduras and President of Indonesia, Joko Widodo.
The King of Jordan, Abdullah Il bin Al Hussein, Prime Minister of Malta, Joseph Muscat and President of Romania, Klaus Iohannis.
The statement also said President of Rwanda, Paul Kagame, Prime Minister of Spain, Mariano Brey, also spoke with Trump to offer congratulatory wishes.
According to the statement, President of the European Commission, Jean-Claude Juncker and that of the World Bank, Dr Jim Kim, were among the list of the world leaders who congratulated the president-elect.
Trump had earlier spoken with some world leaders including those of Germany, Japan, Pakistan and Taiwan, among others who had called to congratulate him since his election as the next president.

Load more