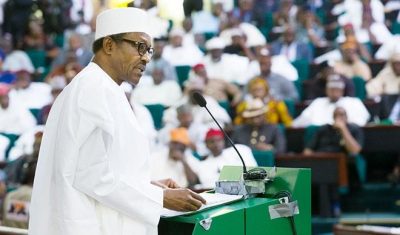 Alhaji Aliyu Mustapha, Director, Research and Consultancy, Kano State Chamber of Commerce, Mines, Industry and Agriculture (KACCIMA), says the 2017 budget is designed to put an end to recession.
Mustapha told the News Agency of Nigeria (NAN) on Friday in Kano, that the entire budget was fashioned out by the Federal Government to revive the ailing economy of Nigeria.
"The plan by the government to revive the country's rail system, the agriculture and other key sectors of the economy will assist in boosting the nation's economy."
He commended the Federal Government for not including fertilizer's subsidy in the budget, adding that the issue of subsidy is related to corruption.
According to him, the implementation of such subsidy by the previous government has contributed to the current economic challenges in the country.
"What we need is that the government should be honest and sincere to provide fertilizers for farmers at the grassroots and other inputs to spur food production.
"So far the Federal Government has achieved 50 percent implementation of the 2016 budget, we hope the remaining 50 percent will also be achieved within the next five months.
He advised the government to take necessary measures to end the Niger Delta crisis otherwise, it would be very difficult for the government to generate money to finance the budget.
Mustapha condemned the government's plan to commence the feeding of primary school pupils, adding that it was the responsibility of the state and local governments to do so.
"When you look at the issue critically, you will understand that it's more of politics.
"It is abnormal for the Federal Government to spend a huge amount of money on state's responsibility while the tertiary institutions are being starved of funds," Mustapha said.

Load more