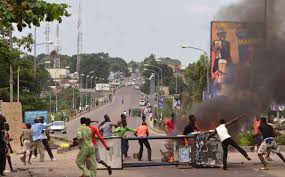 Militiamen in eastern Congo attacked a prison on Monday, engaging in gun battle with security forces amid heightened tensions as President Joseph Kabila's last term in office ends.
Report said no election was held to choose a successor to Kabila , whose mandate had expired and opponents said it was an attempt to cling to power in defiance of the constitution.
Fabrice Kakubuzi, a local activist in the eastern city of Butembo told newsmen that "since early morning on Monday, there have been incursions by the Mai Mai militia.
"They wanted to liberate prisoners at the central prison.
"They want to take advantage of the day to liberate prisoners,'' Kakubuzi said.
A police spokesman said the militiamen were trying to loot but had been pushed back by security forces.
A presidential election was postponed until April 2018 because of logistical and financial problems and some opposition leaders agreed that Kabila could remain in office until then.
The constitutional court has also ruled that Kabila, who had been the country's
president since his father was assassinated in 2001, can stay on.
However, Democratic Republic of Congo's main opposition bloc rejected the deal as a ploy.
Recent talks mediated by the Catholic Church failed to reach a compromise.
The capital Kinshasa, an opposition stronghold of 12 million people, was quiet on Monday, with many residents staying at home and shops and businesses shuttered.
Military and police patrolled the streets with riot trucks.
The government has outlawed protests there, raising fears of repression and violence in a nation that has been plagued by war and instability for two decades since the fall of kleptocrat Mobutu Sese Seko.
Congo has not seen a peaceful transfer of power since independence in 1960.
The opposition said on Saturday that it would not call for protests, but that may not stop them happening.
Diego Kas, 29, who is unemployed like much of Congo's adult population, as he stripped a discarded fridge they are prepared to take to the streets to chase out Kabila.
"Kabila will be an illegal president.
"I don't know how Kabila is going to stay on because we don't like him anymore. We are not his tenants. Congo is our country,'' Kas said.
More than fifty people were killed in anti-Kabila protests in September; mostly protesters shot by police, although some mobs also attacked police stations and lynched officers.
However many people died during demonstrations in January 2015.

Load more