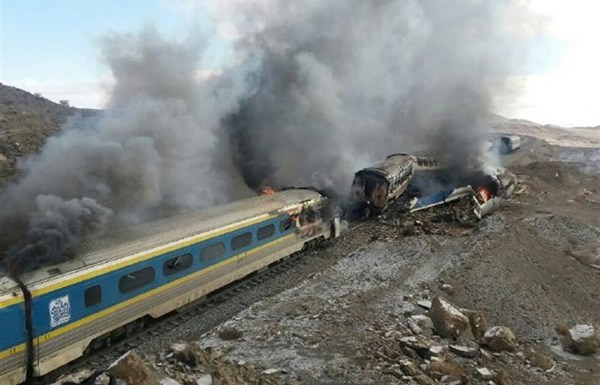 A Lagos bound train from Kano collided with a trailer at railway crossing in Kawo, Kaduna, and cut the trailer into two, the Federal Road Safety Corps (FRSC) said in Kaduna on Wednesday.
Sector Commander of FRSC in the state, Mr Francis Udoma, disclosed that the incident occurred at 3 a.m., adding however, that no life was lost.
Udoma explained that the train, carrying Nigerian soldiers and civilians, crashed into the trailer, belonging to W.A Group of Companies, carrying sugarcane.
He said the accident occurred when the driver of the trailer insisted on crossing the rail line even when the train was blaring.
He said the incident caused traffic jam that lasted for six hours.
Udoma said motorist coming from Kano and other northern states, as well as those coming from the southern and the eastern part of the country were all stranded at the railway crossing.
"We deployed our men, including myself, when we received the call, and arrived there to manage the traffic jam for hours.
"We were there until 9 a.m. before we were able to open the road for motorists to pass through'', Udoma said.
He blamed the accident on the impatience of the trailer driver, whom he said might be suffering from hearing problem.
"It could be that the driver had problem hearing, because train normally will blare, but this driver, even with the horn decided to cross.
"This is abnormal. Nobody with normal hearing sense would take such a risk'', he said.
The FRSC boss advised drivers with hearing defect to get hearing aids to avoid accidents.
In a related development, Udoma said that no fewer than 14 people lost their lives and 160 injured in accidents involving 53 vehicles from Dec. 1 to date in the state.
He said that the 14 people were killed in 11 fatal and 23 serious accidents involving 332 people.
Udoma, however, said the corps had rolled out several operations which began on December 12 to ensure safety on roads throughout the yuletide.
"These include operation zero tolerance to accidents, special intervention patrol and traffic frequency monitoring.
"The operations are being carried out in collaboration with the police, Nigerian Security and Civil Defense Corps, National Emergency Management Agency and the National Union of Road Transport Workers, he said.
He said that marshals had been deployed to junctions to ease traffic flow in Kaduna metropolis, adding that officers had also been deployed to all flash points to assess the impact of the patrol.
He added that the operations were being conducted along with mobile court, being part of FRSC mandate to prosecute traffic offenders with a view to bringing sanity to the roads.
Legal Officer of the command, Ibrahim Tanko said so far, 210 motorists had been convicted by the mobile court from Dec. 7 to date.
He said 32 motorists were convicted in Kachia, 49 in Kaduna – Zaria toll gate, 59 on Kaduna–Abuja Express way, while 70 were convicted at Sabon Tasha, in Kaduna metropolis.
"The motorists were arrested for overloading, driver's license violation; vehicle license violation; tyre violation; number plate violation, and obstruction of marshal on duty, among others'', Tanko said.

Load more