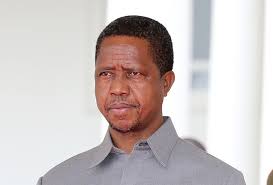 Zambia's President Edgar Lungu ordered the air force on Thursday to join other government agencies in an emergency operation to contain the spread of pests that have invaded maize fields in many parts of the country.
The armyworms, which feast on young maize plants and are capable of wiping out entire fields, have been spotted in about six of Zambia's 10 provinces, Agriculture Permanent Secretary, Julius Shawa said.
The Zambia Air Force began airlifting pesticides to the four worst affected provinces and will team up with the Ministry of Agriculture and the Disaster Management and Mitigation Unit (DMMU) in responding to the crisis, presidential spokesman Amos Chanda said in a statement.
The air force will not carry out aerial spraying of the insecticide, however.
Zambia's maize production rose to 2.87 million tonnes in the 2015/2016 crop season from 2.60 million tonnes the previous season due to better than anticipated rainfall and early delivery of fertiliser and seed to farmers.
"The president is concerned that if the outbreak of the worms is not controlled speedily, the crop yield for 2016/2017 may be negatively affected,'' Chanda said.
The DMMU and the Ministry of Agriculture will conduct random checks today to ensure the emergency spraying operation was going well, Chanda said.

Load more