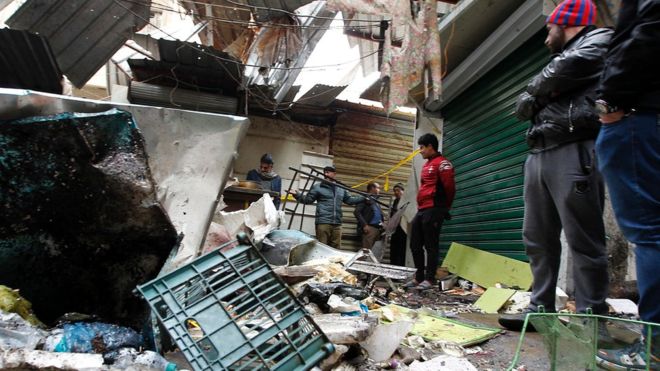 At least 28 people have died in the Iraqi capital, Baghdad, in a double bombing claimed by so-called Islamic State (IS).
The explosions happened one after another in the busy al-Sinak market. More than 50 people were injured.
Police said a roadside bomb exploded near a car spare parts shop, then a suicide bomber detonated his device among the crowd that had gathered.
Baghdad has seen frequent attacks, often targeting Shia districts
IS released a statement saying two of its militants had carried out the bombings wearing suicide vests.
The jihadist group is under pressure from an Iraqi army offensive further north in Mosul, the last major IS stronghold in the country.
"Many of the victims were people from the spare parts shops in the area," local shopkeeper Ibrahim Mohammed Ali told the AFP news agency. "
"They were gathered near a cart selling breakfast when the explosions went off."
-BBC