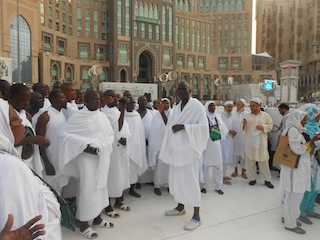 Kaduna State Muslim Pilgrims Welfare Board on Sunday said it had recorded high turn out of prospective pilgrims making deposits for the 2017 Hajj.
Imam Hussaini Tsoho-Ikara, Acting Executive Secretary, said the bulk of those who had so far paid their deposits were from rural areas.
Tsoho-Ikara said in Zaria that the board had introduced measures to block unscrupulous elements from defrauding the intending pilgrims.
According to him, the high rate of deposits received is due to improvement in the earnings of rural dwellers who had recorded bumper harvests and high price for their produce.
"The patronage of Hajj seats from rural dwellers this year outweigh the number of intending pilgrims from urban centres.
"From our record, grassroots farmers have already dominated in the payment of Hajj seats for 2017 operation compared to people living in cities.
"Remember, in previous years, hardly can farmers sell a bag of maize equal or little above the price of fertilizer bag," he said.
He noted that a bag of maize now goes for above N12,000, thus enabling intending pilgrims the opportunity to pay for the N1.2 million fixed as maximum deposit for a Hajj seat.
"So, a Nigerian farmer is king now, and with this new development many Nigerians have resolved to go back to farm to reap the fruits therein, "he said.
He said the board had fixed N800,000 and N1.2 million as minimum and maximum amount for the fares, pending formal announcement by the National Hajj Commission of Nigeria.
Tsoho-Ikara said the board had introduced measures to insulate intending pilgrims from fraudsters and save the integrity of the board.
"One of the measures is that non of our officials should collect cash or bank draft from an intending pilgrims and whoever wants to pay for Hajj seat must come to our office himself.
"Such intending pilgrims must come with valid international passport and he/she must register with the name on the passport, not any other name.
"When he/she satisfies all these, then a customized teller of specific banks will be issued, so that payment into the board's account is not tempered with."
Tsoho-Ikara appealed to intending pilgrims to strictly comply and support the new initiative with a view to stamping-out shoddy deals in the process.

Load more