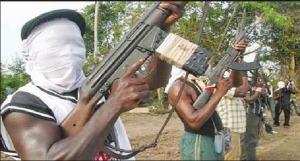 Kidnappers, numbering about 30, have kidnapped Alhaji Garba Mamud, the Village Head of Rijin in Basirka District of Gwaram Local Government of Jigawa.
Malam Dauda Mamuda, the brother to the district head, who is a Ward Head, was also kidnapped by the suspects.
A resident of the community, Malam Musa Ibrahim, told the News Agency of Nigeria (NAN) in Gwaram that the incident took place in Gwaram 5.00 a.m on Tuesday.
Ibrahim said that residents were woried over the incessant kidnapping of Fulani herdsmen in the area.
He added that the people of Rijin, Basirka and other areas had resorted to sleeping with their two eyes opened, in view of the incessant kidnapping in their communities.
Ibrahim appealed to Jigawa Government and the Police Command in the state to come to the aid of the affected communities.
When contacted, the Police Public Relations Officer (PPRO), for the Command in the state, Abdu Jinjiri said the command was aware of the incident.
Jinjiri further stated that the Commissioner of Police in the state, Mr Rasheed Akintunde, had directed the Divisional Police Officer in charge of Gwaram Local Government, CSP Muhammad Badawa, to investigate the matter and arrest the suspected kidnappers.

Load more