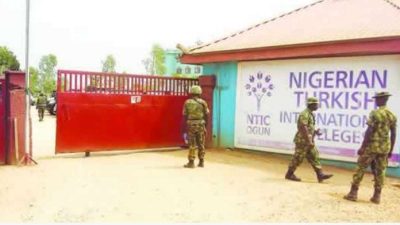 The police have rescued three students and 5 staff of Nigeria Turkish International College, Isheri, Ogun State.
The students and staff of the college were recently abducted by gunmen who demanded a huge ransom.
The new Assistant Inspector General of Police (AIG) , Zone 2, Kayode Aderanti, on Tuesday gave an assurance that the kidnapped students and staff of the Nigeria Turkish International School, Isheri, Ogun, would be released within 24 hours.
Aderanti gave the assurance while speaking with newsmen shortly after his visit to former President Olusegun Obasanjo at his hill top residence in Abeokuta.
The eight students and staff of the Nigeria Turkish International College in Ogun were recently abducted from the school by unknown gunmen.
The AIG, however, said that he spoke with the leader of the search team shortly before his visit and that he got a positive response from him.
He denied rumours that the families of the victims had been paying ransom, insisting that "no ransom has been paid.''
Aderanti commended the state's Commissioner of Police, Ahmed Iliyasu, for putting in place an effective security system in the state.
He urged residents of Ogun to partner with the police to ensure that lives and property were properly secured.

Load more