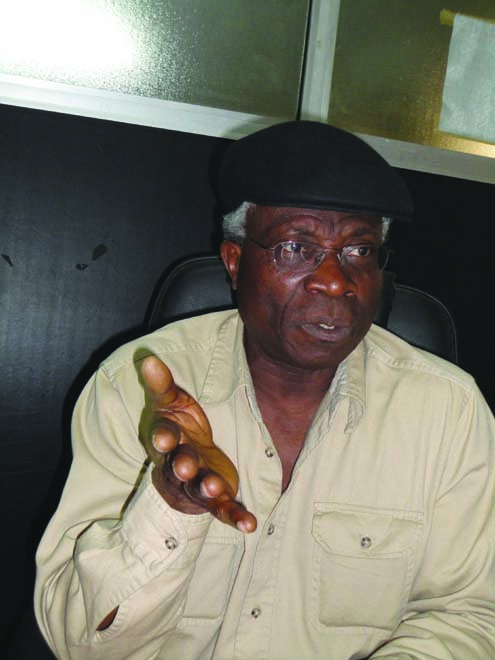 By Remi Raji
The exemplary poet is 70 years old today, and I must return to the market square to plant a song.
The gardener of redolent words, the warrior of light, is three scores and ten years today on Mother Earth. I cannot survive the luxury or mystery of silence. Fire in the bushels of barbarians, scourge of tyrants and traitors, the predictable voice against the conclaves of corruption, he of million metaphors, neither tired nor tiring of speaking truth to crookedness in high and low places.
Born on March 12, 1947 in Ikere-Ekiti, Nigeria, Niyi Osundare has achieved solid fame through hard work, diligence, and a dogged commitment to creativity and intellectual distinction. Grand and multiple award winner for his numerous books of poetry, he is always in great and real elements in the classroom, as trainer and high priest of knowledge. I am certainly not the only witness to Osundare's unique teaching style…
Once I penned a tribute about his philosophy of art:
Chinua Achebe teaches us a masterful and disarming narrative style filled with both lessons and puzzles; Soyinka bequeaths to us a large canvass of artistic genius and political daring; and Okigbo, the combination of the puzzle and the daring that the real author is all about, provides us with the limitless possibilities of the Muse, the true excitement of imagination. In his poetry and essays, Osundare, the scion of Osun captures the vagaries of the African dilemma, with the deep emotive insight of a revolutionary artist. Always, he queries the "jangling discord" of the Nigerian nation in a harmonious language made for intimacy and intelligibility; he draws consistently on the heritage of Yoruba verbal elegance which he transforms onto the graphic and permanent intelligence of the written word; for him the page is only a tangible site for the performance of the poetic text, and the voice, with the atmosphere of delivery, is the thing. To read a poem sitting, or standing like Sigidi, he insists, is to commit an abominable act, a disservice to the pageant of the enchanted word!
Indeed, Niyi Osundare is the poet of the alter-native tradition par excellence.
Global Nigerian. African Patriot. Engaging Poet. Three odd things to be at the same time at all time, Niyi Osundare continues a healthy dialogue with his country and continent, without apologies, without compromise and without anxieties…
We celebrate Olosunta's child, Katrina's survivor, we celebrate decades of unrelenting writing and activism. Many hearty cheers to the author of Songs of the Marketplace, Village Voices, A Nib in the Pond, The Eye of the Earth, Moonsongs, Songs of the Season, Waiting Laughters, The Word is an Egg, Tender Moments, Random Blues…etc.
May many more celebrations come and go like the rains in the predictable hour.
Therefore, this 12th day of March, 2017, marks the beginning of the year-long celebration of Niyi Osundare at 70.
An evening of jazz & poetry, featuring Aditu Jazz+, under the direction of culture aficionado, Dr.Sola Olorunyomi, holds at the Senior Staff Club, University of Ibadan, from 6.00pm to 10.00pm.
The Ibadan Poetry Foundation (IBPF)is concluding the process of publishing a "poetschrift" featuring Odia Ofeimun, Kole Odutola, Tade Ipadeola, Jumoke Verissimo, Dami Ajayi, Matthew Umukoro, Folu Agoi, Ebi Yeibo, Su'eddie Vershima Agema, Servio Gbadamosi and an impressive number of new voices includingAbegunde Sunday Olaoluwa, Uchechukwu Agodom, Oluwatoyosi Agbaakin, Goodness Olanrewaju Ayoola, Michael Olusegun Babajide, Femi Eromosele, Basit Olatunji and Mbasughun Ukpi.
On World Poetry Day (March 21, 2017), Niyi Osundare's ideas and poetry will be a subject of discussion at a special interactive session on "Poetry, Politics and Society."
Remi Raji

Load more