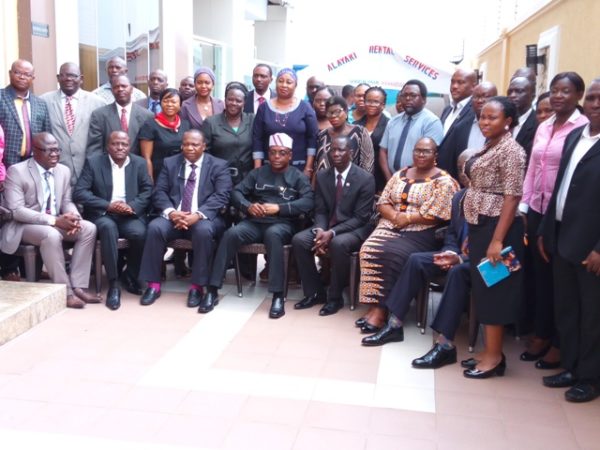 By Kazeem Ugbodaga
Lagos State Governor, Akinwunmi Ambode on Tuesday charged other state governments in the country to embrace leadership development as that is the only way to move their states forward.
The governor, who spoke while declaring open a two-day workshop for public servants in Ikeja, Lagos, Southwest Nigeria said the reason behind the success of Lagos was because it took the development of leaders in the public service seriously.
The training was organised by the Lagos State Ministry of Establishments, Training and Pensions in conjunction with Messrs. Baywatch Consulting Limited.
Ambode appealed to states to emulate the example of Lagos by embracing consistent leadership capacity building for public servants in order to reposition their states.
The governor, who was represented by the Commissioner for Establishments, Training and Pensions, Dr. Benson Oke added that  organisations, such as state governments needed to be strategic about developing and nurturing future leaders.
"Without strategy, leadership roles are often given to the most forward candidates with dominant personalities. Quality leadership is a combination of the right qualities and the right training. Identify those who have what it takes and provide them with targeted leadership training. Nurturing future leaders supports succession planning and offers career pathways to employees, further increasing retention.
"Leadership training can assist in implementing the most appropriate leadership style for organisations and the work they do. There are several leadership styles, all with their own advantages and disadvantages. Leadership training can also help individual leaders develop their own personal leadership style that their team members will best respond to," he said.
The governor said in a dynamic age of constant changes, it was widely agreed that institutions must have clearly-defined missions that were relevant to the needs and aspirations of its stakeholders.
Ambode stated that the human capital at the helm of leadership in these institutions must have the courage to envision a future that realised the attainment of the defined mission of the institutions, adding that in order to actualize the vision, however, leaders must be trained to possess both the hard and soft skills that were fundamental for success.
"I therefore challenge you all to join in envisioning our dear Lagos State Civil Service as an organisation where no problem will be too complicated, no task too herculean, no challenge too huge, and no task too complicated for it to confront head-on. You should therefore regard this training as yet another effort at kick-starting the monumental task of helping every officer of the Lagos State public service become impactful, influential and productive to such degrees that the output of the Lagos State civil service will inspire our dear citizens," he said.
Ambode stated that at the end of this training, every participant should be able and empowered to set a clear vision regarding his duties and effectively communicate it to colleagues, providing them with a clear understanding of the desired direction and should fully appreciate and understand that effective planning was important when it comes to meeting organisational goals.
He added that workers should be able to provide stability, inspiration, courage and direction during times of crisis and when dealing with relationships between co-workers and that the trainees should have improved employee relations and more closely align his/her team and individual objectives.