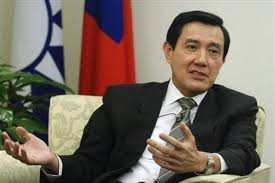 Former Taiwan President Ma Ying-jeou was indicted on Tuesday for alleged abetment in the disclosure of information in connection with an ongoing high-level investigation.
According to the Taipei District Prosecutors' Office, the leaked information should have been kept secret under the Communication Security and Surveillance Act.
"Ma was indicted because the president is obligated to keep confidential information," Taipei Deputy Chief Prosecutor Chang Chieh-chin said.
According to the prosecutors Ma received leaked information from former prosecutor-general Huang Shih-ming inAugust 2013 regarding an ongoing investigation.
This includes wiretaps into allegations that lawmaker Ker Chien-ming and former legislative speaker Wang Jin-pyng were improperly using their political influence.
Ma later ordered Huang to report the case to then-presidential office spokesman Lo Chih-chiang and then-premier Jiang Yi-huah.
Ma insists that he was innocent.
The leak of confidential information resulted in a political power struggle in September 2013, when Wang was expelled from the Chinese Nationalist Party (KMT) Chaired by Ma.
However, Wang later regained his membership after filing a lawsuit against KMT.
In a related development, a court in Taipei is to announce its ruling on related cases involving Ma on March 28.
In September 2013, lawmaker Ker accused Ma of libelling him.
Ma is the third president in the island nation's history to be indicted by prosecutors.
His predecessor, Chen Shui-bian, was charged with corruption in 2008 and was granted compassionate release in 2015.
Former President Lee Teng-hui in 2011 was charged with corruption but found not guilty.

Load more