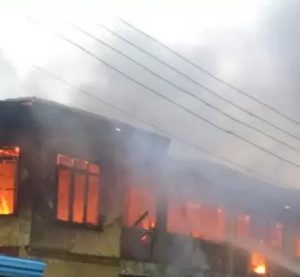 A fire gutted the POWA Plaza located on Etete Road in Benin on Monday evening destroying goods and properties worth millions of naira.
The POWA Plaza is owned and managed by the Police Officers Wives Association (POWA).
Mrs Elkanah Ayuba, the Acting Chairperson of the association, confirmed the incident to newsmen on Tuesday in Benin, but said no life was lost.
Ayuba said that the fire, which reportedly started around 6.45 p.m., affected 86 shops in the shopping plaza.
She said that POWA had also lost its source of income.
"One of my POWA members called me to inform me about the fire incident. I am still in shock right now as I speak to you.
"We do not know the actual cause of the fire, but we have reported to the police. After the investigation, we will be able to establish the actual cause of the fire.
"It is too early to start calling for any help.
"We have to go round and assess the level of damage in the plaza and evaluate how much goods were lost to the inferno before soliciting for help from the government and Nigerians," Ayuba said.
The acting POWA chairperson expressed sympathy with the traders over their losses, but thanked God that no life was lost in the process.
Mr Joseph Akpan, a trader in the plaza, said that he left his three children in the shop and went to work in town, but later received a call that the shopping mall was on fire.
Akpan said that other traders rescued his children from the smoke that had already covered his shop.
"I lost goods worth N5.6 million because I just stocked the shop last Friday," the electrical and electronics dealer said.
Mrs Bose Ajayi,  a tailor in the complex, said that the inferno destroyed five sewing machines and clothes belonging to her customers.
"I closed early on Monday and just came this morning to open my shop, but there is no shop to open.
"I am appealing to government and Nigerians to come and assist us. The destruction is massive and goods worth billions of naira were lost.