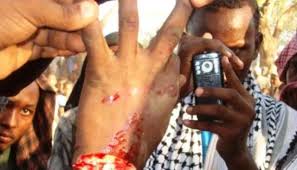 Taliban militants punished a man accused of stealing by hacking off one foot and one hand, an official in the western Afghan province of Herat said Tuesday.
"Locals were invited to watch," said Ghulam Farhad, a spokesman for the provincial government.
The man is in stable condition at hospital in Herat city, he said, adding that the sentence was carried out Monday in a remote area of Obe district.
The Taliban had held the man for one month on a robbery charge before carrying out the public punishment.
A Taliban spokesman was not immediately available for comment.
Last week the Taliban stoned a woman to death and whipped a man on adultery charges in Afghanistan's north-eastern Badakhshan province.
In January, Taliban militants publicly flogged six people in central Afghanistan on allegations of robbery and adultery.
The UN said in a report that they registered 41 such cases in 2016. Of those, 38 people died.
The actual number of cases is likely to be higher, the UN said, due to limited access to areas under Taliban control.

Load more