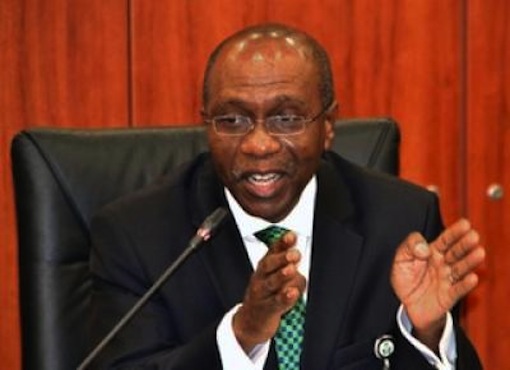 The Central Bank Governor, Mr Godwin Emefiele has urged the country's monetary and fiscal authorities to collaborate and work in harmony to accelerate Nigeria's economic development.
Emefiele made the call in a statement signed by CBN's acting Director, Corporate Communications on Sunday in Abuja.
The CBN governor spoke at a meeting with fiscal authorities from the Ministries of Finance, Budget and National Planning as well as Trade and Investment at the weekend.
The theme of the meeting was: "Pathway to Price Stability Conducive to Economic Growth.''
Emefiele said the meeting which had in attendance a large representation of fiscal authorities for the first time, was coming at a period when the country was facing serious economic challenges.
According to him, finding a sustainable solution requires a broadened participation of colleagues from the fiscal side.
He said that the meeting provided perspectives on certain Monetary Policy Committee decisions.
Emefiele said the meeting was aimed at closing the gap on coordination between monetary and fiscal authorities to chart a common course and take decisions to develop the economy.
The statement also quoted the Minister of Budget and National Planning, Senator Udoma Udo Udoma as saying "both the monetary and fiscal authorities had no choice but to work together to guarantee the country's economic growth''.
He said that the pathway to lower interest rate was to ensure monetary and fiscal authorities collaboration with the private sector.
The statement quoted Mrs Kemi Adeosun, the minister of Finance as saying "solving the challenges facing the Nigerian economy required unconventional tactics''.
Adeosun said that there were still a huge number of unbanked Nigerians whose contributions to the economy remained uncaptured.
She said the government must devise ways to bring them into the financial mainstream, adding that based on the current realities, the Federal Government would have to borrow more to meet its infrastructural obligation.
Also speaking, the Minister of Industry, Trade and Investment, Dr Okechukwu Enelamah emphasised the need for both monetary and fiscal authorities to ensure business and investor confidence.
Enelamah also stressed the need to ensure policy integrity in order to improve the ease of doing business in Nigeria.
According to the statement, the Deputy Governor, Economic Policy, CBN, Dr Sarah Alade made a presentation entitled: "The Macroeconomic Dilemma and Monetary Policy in Nigeria".
She said the onus of solving the dilemma of low interest and exchange rates as well as low inflation should not entirely be the function of the monetary authority.
Alade said there was also the need to put deliberate policies in Place to ensure stability and engender growth in the economy.

Load more