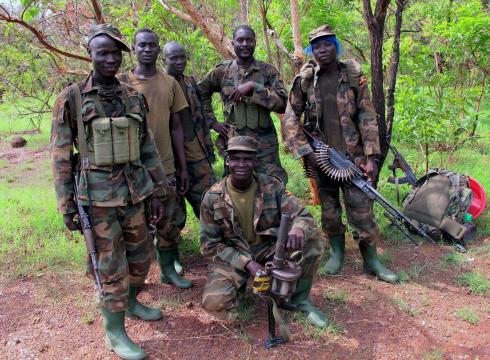 Informatics Students' Association, Abuja chapter has honoured Sgt. Jamilu Hassan, who emerged the best student of Bachelor of Information Technology at the International University of East Africa (IUEA), Kampala, Uganda.
Hassan, of the Nigerian Army, who graduated on Feb 10 with a First Class degree after scoring 4.97/5.00 CGPA, is being celebrated by his fellow Informatics Students.
Speaking at the event, the Chairman of the association, Malam Goni Isah commended the excellent performance of Hassan, saying that Nigerian students were proud of his excellent performance.
"We know what Hassan can do as an IT student. He is a good programmer, especially in Web Development.
"We have been participating in different projects together. Hassan is one of the best students at informatics in his time. The sky is your limit my brother. Keep it up,'' he added.
According to him, Hassan's academic excellence is worthy of emulation by his colleagues in the Nigerian army and the youth across the country.
Isah also commended the Nigerian Army for allowing Hassan to pursue his academic career abroad, adding that such opportunities should continue to be extended to other soldiers, particularly the junior officers.
According to him, this will enable them achieve academic excellence in various fields of human endeavours.
He pledged that the association would continue to honuor its members, who excel so as to encourage others to pursue academic excellence within and outside the country.
NAN observed that Sgt. Hassan, 32, is also being celebrated on social media by his alma-mater, colleagues and friends.
Mr Okopa Micheal, the Director Quality Assurance and Acting Academic Registrar of IUEA, described Hassan as "a focused and hardworking student and with this performance, the sky is his limit''.
A colleague of Hassan, Oguntuase Ojo said, "I am not surprised because I know you are an Information Technology Guru. Keep it up.''
Ibrahim Ibrahim, one of Hassan's kinsmen and a teacher in Jigawa, commended him for bringing glory to Nigeria through his excellent performance in Uganda.
"It did not come as a surprise, this is not the first time you have received an award of academic excellence even in the military. Keep it up, with God everything is possible,'' Ibrahim said.
Hassan was born in Jigawa in 1985 and attended Kamara Primary School Gombe from 1990 to 1996 before proceeding to Army Day Secondary School, Bukavo Barracks, Kano from 1998 to 2004.
He enlisted into the Nigerian Army on Feb. 28, 2005 as a member of 56 Regular Recruit Intake and was posted to the Nigerian Army Corps of Military Police where he was trained as a criminal investigator.