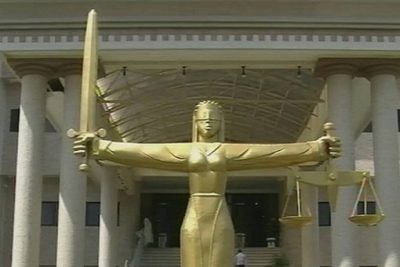 The Sini family of Warri on Monday demanded for justice over the alleged killing of their son, Akporido Sini.
Mrs Mary Odibo led members of the aggrieved family to the Secretariat of the Nigerian Union of Journalists (NUJ), Warri Correspondent Chapel, to intimate newsmen of the sad development.
The late Akporido was alleged to have been apprehended by operatives of the Nigeria Police "B Division", Warri, alongside two others, Efe Otikpo and Urhuemu over a robbery incident on March 15, 2017.
Akporido, Otikpo and Urhuemu, who were alleged to have stolen a Toyota Camry car, were apprehended at Ometa axis in Warri South Local Government Area of Delta.
Odibo explained that the late Akporido, 36, who was a hair stylist, was returning from the service of songs of one of their in-laws at Ometa when he was arrested along with Otikpo and Urhuemu in the car.
"I know that my brother cannot rise again; we are only asking for justice; innocent souls are dying.
"The press should help us so that innocent people will not keep dying in the name of curbing criminality," she said.
Another member of the family, Mrs Bethel Esini, said they were not allowed to see the suspects when the trio were conveyed to B Division.
"They asked us to come the following day by 10.00, we came and waited till 2.00 p.m. but could not gain entry; but my sister waited till 7 p.m. at the police gate.
"It was later on that Thursday evening that youths in our community showed us photographs that my brother was dead.
"Up till now, the Police have not told us that our brother is dead.
"The Toyota Camry car belongs to my landlord's son and he bought it last year in Warri with the original documents," she said.
Meanwhile, a Warri-based human rights activist, Mr Oghenejabor Ikimi, has called on the Inspector-General of Police (IGP), Mr. Ibrahim Idris, to commence independent investigation into the matter.
Ikimi, the Executive Director of the Centre for the Vulnerable and Underprivileged, made the call in a statement made available to newsmen in Warri on Monday.
According to him, in the Nigerian Constitution, every person is innocent until proven guilty in a law court.
"It is in the light of the forgoing that we write this petition for you to commence an independent and unbiased investigation into the murder of an innocent and unarmed citizen.
"Justice delayed is justice denied," he said.
In his response to the matter, the Police Public Relations Officer (PPRO) in Delta, DSP Andrew Aniamaka, said the Police was saddled with the responsibility to protect citizens and not to kill them.
"Police does not kill; our duty is to protect the citizens; that is it and we have issued a statement to that effect in Asaba," Aniamaka said.

Load more