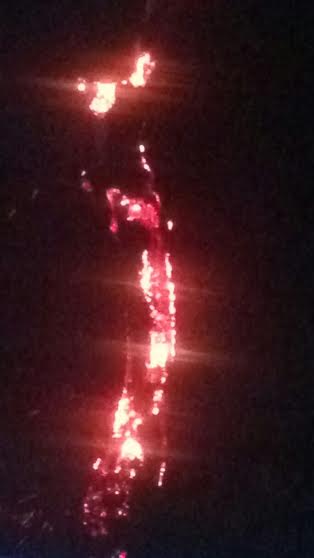 By Kazeem Ugbodaga
The Lagos State Government has reported that a strange Iroko tree located at Topo Motor Park in Badagry area of Lagos, Southwest Nigeria caught fire on Sunday and raged for almost a day.
Director, Lagos State Fire Service, Rasak Fadipe told PM News that the Iroko tree caught fire on its own without anybody setting it ablaze around 7p.m. on Sunday.
"An Iroko tree on its own burst into flames for about six hours in Badagry. Firemen are on ground to prevent the fire from spreading to buildings," he said in a text message around 1 a.m. on Monday.
Spokesperson, National Emergency Management Agency, NEMA, Ibrahim Farinloye also confirmed the incident.
He said firemen were on ground to prevent the fire from spreading to nearby buildings, but the fire could not be put out on time.
"Firemen are on ground to prevent its spread to the nearby buildings. Surprisingly when water with chemical was applied, the fire increased rapidly," he said.
Around 5.30 p.m. Monday, Farinloye confirmed that the fire on the Iroko tree had been put out.
"Two branches of the tree were burnt down but the leaves are as fresh as if nothing has happened. The tree is located in Topo motor park, Badagry," he said.
An environmental expert however disagreed with the government officials that the incident was mysterious.
According to him there was nothing mysterious about the tree catching fire in this dry season.
He said incidence of trees and bushes catching fire during the dry season was a normal phenomenon at this period of the year due to the excessive heat of the sun and the fact that the leaves are dry.
"This is normal. There is nothing strange or mysterious about trees or bushes catching during the dry season. The officials are only displaying their ignorance of bush fires which occur during excessive heat of the sun and for the fact that the leaves and the bushes are dry at this period and so prone to fire."
Save
Save

Load more