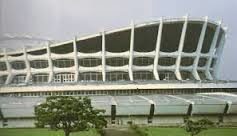 A Movie Producer and Director, Mr Kingsley Agubom, has said that entertainment was a strong tool that could be used to douse the challenges of the recession being experienced in the nation.
Agubom said on Wednesday in Lagos at the Artists' Village, National Theatre, on his movie shoot for his ongoing soap opera, "Sparkle: Season 4''.
The movie director, who has produced numerous films to his credit, said Nigerians needed absorbing movies more than ever to keep them entertained.
"Movie is an authentic tool that should be promoted in every home because it has the magic that can quell the stress of the ongoing recession in the society.
Cover promo movie, `Sparkle'
"This is the time people need interesting videos and music to reduce those pressing challenges that may be weighing them down,'' he said.
According to him, it is necessary to engage in activities that could help individuals to ease tension.
"When one returns from his place of business without any success, instead of thinking, it is better to watch films that will make the person to forget the sorrows and disappointments,'' he said.
Agubom said his story lines were usually centered on the issues and challenges associated with youths in order to address inherent vices in society.
"Entertainment has the solution to every subject matter because it touches every aspect of the society; it mirrors the life and attitude of every section.
"It is a fast and very effective means of reaching out to a wider-audience at the comfort of their homes; our stories can reform the mindset of individuals, especially youths,'' he said.
He noted that the industry had made it possible for movies to be sold at an affordable cost so as to have a wider reach for everyone.

Load more