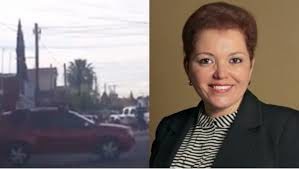 A journalist who wrote about organised crime was fatally shot as she left her house in the Northern Mexican state of Chihuahua, a newspaper she wrote for said on Thursday.
Miroslava Breach, 54, was a correspondent for the newspapers Norte and La Jornada, which confirmed the killing to dpa.
She was attacked and shot in her car by one or more unknown assailants.
Breach was responsible for reporting from Chihuahua, a city of 800,000 people, about organised crime and other topics.
Her death comes just days after the killing of the director of the news portal El Politico in the state of Veracruz.
Chihuahua lies in the state of the same name, which borders on the United States in an area dominated by the drug mafia.
It is considered one of the most dangerous states in Mexico.
Reporting organised crimes in Mexico had increasingly been met by threats.
The organisation's Reporters "Without Borders'' in 2016 ranked Mexico 149th in press freedom and nine journalists were killed in Mexico in 2016.
That made the country the most dangerous country in the world outside war zones.