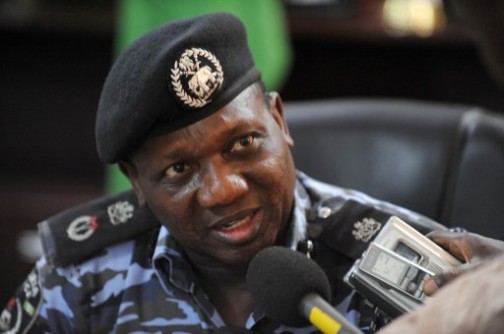 The Police on Tuesday paraded one Ifeanyi Ezechukwu and Chinedu Amadi for allegedly kidnapping Ezechukwu's landlady together with her son to obtain ransom and pay his overdue rent.
They were paraded alongside six other suspects arrested by Operatives of the Inspector General of Police (IGP) Monitoring Unit for various crimes which include armed robbery and kidnapping.
The spokesman of the Nigerian Police Force, CSP Jimooh Moshood said Ifeanyi Ezechukwu and Chinedu Amadi were arrested in a raid carried out in Umuanwa community Ikwerre LGA in Rivers state.
He explained that they were picked over kidnapping Ezechukwu's landlady and her son who were promptly rescued by the police.
Fielding questions from journalists, Ezechukwu admitted conspiring with his friends to kidnap his landlady to enable him pay his rent of N70,000.
Ezechukwu said he was unable to pay the rent which caused him to use his friends, who helped in kidnapping the landlady and her son.
The Police said they were arrested after a ransom of N200,000 was paid.
The Police also paraded two other suspects over kidnapping of a student of Federal University of Technology Owerri, Imo state.
Moshood said the suspects Micheal Obi and Kelechi Ndukwu were arrested and the victim rescued from their hide out, after they lured her through an internet homosexual love scam.
Responding to questions, Obi told journalists that they pretend to be lesbian on the internet to lure unsuspecting lesbians interested in a relation to meet them.
He said they threaten their victims that they would expose them to their families before calling their parents for ransom.
He said local made hand guns and ammunition were recovered from them.
In a related development, the FCT Commissioner of Police Musa Kimo paraded an alleged killer of a taxi driver, he hired on December 22, 2016 at Berger junction to convey him and his members now at large, to Airport road in Abuja.
Kimo said the victim was murdered at the Gosa pedestrian bridge after being robbed of his phone, cash and Nissan Almera car.
The commissioner said the suspect confessed to have personally killed the deceased with the help of his cohort now at large.
He said: "Efforts have been intensified to arrest his cohort who is now at large."
Kimo said the suspect would be arraigned in court on conclusion of investigation into the crime.
He said the command also arrested four suspected kidnappers linked with the kidnapping of a Fulani girl at Wumi village, in Gwagwalada area of Abuja on March 19.
He gave the names of the suspects as: Abdullahi Sanda, Abubakar Muhammad, Shehu Usman, and Usman Abubakar.
Other suspects arrested according to the Commissioner included eight members of a cult.
The suspects are: Emeka Ani, Felix Oje, Promise Ezubuike, Efiong Chidi, Paul Chinedu, David Elkana,Ikechukwu Okoro and Osinachi Anyanwu.
He said the suspects were arrested on March 23 by the police attached to Karimo division, after a tip-off from members of Angwan Shehu village in Karmo, Abuja.
Kimo said the suspects had been terrorizing and robbing the residents of the village.
Daily Trust

Load more