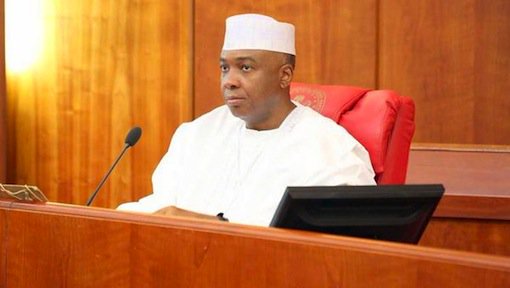 Alhaji Alhassan Umar, representative of Jada/Mbulo constituency in the Adamawa State House of Assembly, yesterday said that Senate President Bukola Saraki is a threat to both the future of All Progressive Congress (APC) and the country's democracy.
Umar who spoke to newsmen on yesterday in Yola alleged that Saraki has put in place multiple plans to frustrate the government of President Muhammadu Buhari to the detriment of Nigerians.
He pointed out that the unnecessary crisis over the confirmation of Ibrahim Magu as the substantive Chairman of the Economic and Financial Crimes Commission (EFCC) and the refusal to confirm the Resident Electoral Commissioners (RECs) was a grand design by the Senate President to frustrate the war against corruption and derail the country's democracy.
"The Senate President is an opposition within APC because he personalises everything about government policies. He is running the senate as his private estate. He poses a serious political threat to the future of the APC if the party leadership does not call him to order," he stated.
Umar maintained that the action of the senate dominated by APC members was essentially anti-government and that their continuous opposition to the president's decisions will not bring development to the country.
He, therefore, urged the senators not to personalise issues of national interest and that they should put aside their political differences and work for the growth and sustenance of democracy.
The lawmaker, who urged the senate to confirm Magu as EFCC chair, pointed out that the anti-graft agency under him had been active and that the tempo must be maintained in order to effectively curb corruption.

Load more