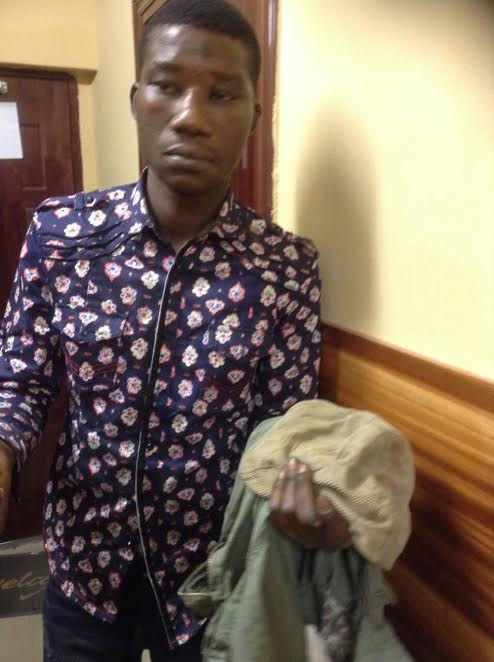 By Kazeem Ugbodaga
A pickpocket arrested by operatives of the Rapid Response Squad (RRS) of the Lagos State Police Command, has confessed that he could use his head to steal anything as he is an expert in stealing.
The suspect popularly known as 'Dayo Skippo' after he was arrested at Ikeja under the ridge told RRS decoy team in an interrogation that he had been in the theft act for a long time, adding that it was the current economic situation that led him into the crime.
The suspect, a secondary school drop-out further explained that all he needed to do was to have the slightest physical contact with his victim and that their valuables were gone.
"I can use my head to remove anything from your body. I will just pretend as if I know you somewhere and in the process of giving you salutations, your item is gone", he confessed.
He also confessed that he did not perpetrate the theft alone but worked with some members of his group just in case the victim became suspicious and that they would quickly swing into action.
One of his victims who narrated his encounter with the suspect, said: "I went to Ikeja Computer Village to see a friend of mine, after seeing him, on my way to the bus park, I just saw someone hugged me from behind and later apologized to me when I told him I didn't know him; before I could look around again, I discovered my phone was gone already and the guy was nowhere to be found."
"I went back to my friend's shop almost immediately to track my iPhone and the location I saw was that my phone was already on Lagos Island".
The suspect, however, appealed during the interrogation to be given a second chance to turn a new leaf, swearing that he would never go back to the act.
Confirming the incident, the Police Public Relations Officer, PPRO, Olarinde Famous Cole, said that there would be no hiding place for criminals in Lagos State, adding that officers of the command were at alert to nip crime in the bud.
The suspect has been transferred to the State Criminal Investigation Department, SCID, Panti for further investigations.

Load more