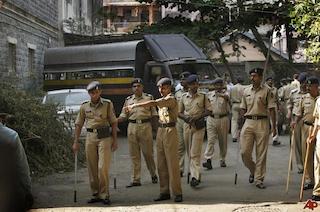 The police India said a Muslim man who was recently attacked by cow protection vigilantes in the northern state of Rajasthan has died of his injuries.
Pehlu Khan, 55, was among the group of 15 Muslims that was attacked by a mob on a highway in Alwar district over the weekend on suspicions that they were smuggling cows for slaughter.
District police chief Rahul Prakash said that Khan, who was admitted to a local hospital, succumbed to his injuries on Monday night.
Hindus, a majority in the country, regard the cow as holy, and this is the latest in a series of incidents of cow vigilantes attacking people transporting cattle in various parts of the country.
Hard-line Hindu groups, including those linked with the ruling Bharatiya Janata Party (BJP), have called for a nationwide ban on the slaughter of cows and have been blamed for such attacks.
READ: Indian Police arrests trooper in possession of 2 grenades in Kashmir Airport
Prakash said a case of murder has been registered but no arrests have yet been made.
He said the police has launched a manhunt for the five main suspects.
Police said the group of Muslim men were booked under the Rajasthan Bovine Act, under which the slaughter of cows can result in up to 10 years in prison.
The attack comes amid a crackdown by several BJP-ruled states on cattle slaughter.
The newly-elected BJP government in India's most populous state of Uttar Pradesh has already shut-down several illegal slaughterhouses, driven by suspicions that the abattoirs are used for the slaughter of cows.