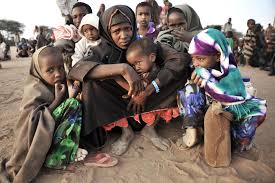 The UN refugee agency says it has repatriated some 59,829 Somali refugees in Kenya since the return exercise began in December 2014.
The UN High Commissioner for Refugees (UNHCR) said on Thursday in its bi-weekly update released in Nairobi that some 3,786 refugees were supported to return to their homes in Somalia in the past two weeks.
"Currently, 21,940 refugees are actively registered for voluntary repatriation," UNHCR said.
The move comes after a regional summit of East African leaders agreed on March 25 to facilitate the voluntary return of Somali refugees but the UNHCR immediately announced it would not back the returns to a country facing threats of severe famine.
The leaders of the Intergovernmental Authority on Development (IGAD) resolved to support the Nairobi Comprehensive Plan of Action for Durable Solutions for Somali Refugees.
The leaders said they would also support a separate plan for regional response to the refugee crisis meant to assist Somalia to survive the ongoing drought and looming famine.
READ: Islamist group takes control of region in central Somalia
The leaders, who met in Nairobi for the Special Summit of IGAD, the first meeting of its kind on the Somali refugee crisis, agreed they would create an enabling environment for safe, sustainable and voluntary return and reintegration of Somali refugees.
In its latest report, UNHCR said road convoys were organised from Dadaab in northeast Kenya to Southern Somalia's Dhobley respectively on Mondays, Tuesdays, Wednesdays and Thursdays.
"Flights to Mogadishu have resumed on Feb. 27 after a long suspension due to security restrictions in Mogadishu since December 2016," UNHCR said.
More than two million Somalis have been displaced in one of the world's most protracted humanitarian crises that have now entered its third decade.
An estimated 1.1 million people are internally displaced (IDPs) within Somalia and nearly 900,000 are refugees in the region.
Continuing political and security stabilization progress in Somalia, along with growing pressures in hosting countries, makes this a critical moment to renew efforts to find durable solutions for Somali refugees.