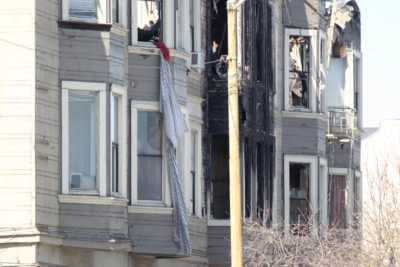 Years before he died in last month's halfway house blaze, Olatunde Adejumobi was researching the use of complex pseudorandom strings and studying computer theory at UC Berkeley.
A psychotic break sent the 36-year-old Nigerian native on a mental health referral to Urojas Community Services' facility at 2551 San Pablo Ave. Residents knew him as the quiet man who spoke with a thick African accent, but years before he moved into the low-income housing complex, Adejumobi studied the theory of computation and mathematics and designed a randomized algorithm in an elite summer program for electrical engineering and computing at UC Berkeley.
Like many residents at the three-story Oakland building, Adejumobi's life has been a mystery since Alameda County coroner investigators identified his burned remains by a fingerprint. On Monday, officials reached his father in Nigeria, with the help of the Nigerian consulate, and released his name publicly for the first time since the March 27 fire. His care providers at Urojas said he loved computers, but they likely didn't know the depth of his vast education.
In 2004, Adejumobi joined 13 other students from across the country in UC Berkeley's Summer Undergraduate Program in Engineering Research at Berkeley, which works to collect and use big data for the public good.
His faculty mentor, Luca Trevisan, remembered Adejumobi.
"This is very sad news. I remember him well," Trevisan said by email. "About five years later, in 2009, he got in touch again by email. Apparently he had suffered from mental health problems and he had dropped out of school in Cincinnati."
Louis Peerless, who rented an apartment to Adejumobi for two years in Cincinnati, remembers him as a sharp mathematician who also suffered from mental illness. On one occasion, the fire department was called because Adejumobi was lying motionless on his bed near a window, Peerless said.
About six years ago, Adejumobi took off for San Francisco, where he claimed to have a wife, Peerless said. He left all of his belongings behind: family photos, clothes and intricate math notes. Peerless kept them in storage for three years, then gave away what he could and trashed the rest.
A letter Peerless sent to San Francisco addressed to Adejumobi to inquire about his disappearance was returned, he said.
"I was heartbroken to do that," Peerless said. "But how long was I supposed to keep it?
"That's the thing that really got to me. He didn't take a thing. I guess he took the clothes he was wearing and whatever cash he had and left," Peerless said.
Two weeks after the fire, investigators tracked down Adejumobi's father in Osogbo, Nigeria, with the help of the Nigerian consulate, said Alameda County sheriff's spokesman Ray Kelly. Adejumobi died from smoke inhalation on the second floor, where he lived in Room 223.
"Sometimes we drive a few blocks over to someone's house and sometimes we have to reach across the globe," Kelly said. "Either way, it's not easy but it's part of the process we deal with doing death notifications."
The three other victims — Edwarn Anderson, 64, Cassandra Robertson, 50, and Ashantikee Wilson, 41 — had already been identified and named by the coroner's office.
The deadly fire gutted the three-story building, leaving dozens homeless. It came nearly four months after the Ghost Ship warehouse blaze killed 36 people in the Fruitvale district.



